Marvel
Writers: Jason Aaron, Fred Van Lente, Mike Benson, Joe Kelly, Duane Swierczynski, Victor Gischler, Charlie Huston, James Felder
Artists: Chris Staggs, Dalibor Talajic, Damion Scott, Rob Liefeld, Shawn Crystal, Sanford Greene, Kyle Baker, Pete Woods…and many more
It's hard to believe that we've laughed and cried our way though 900 issues of Deadpool… no, wait, we haven't. Take your pick as to reasons behind this mock spectacular. Are Marvel making a sly statement on the popularity of the character and the fact that his series just keep on multiplying? Is #900 a parody of double-sized anniversary issues? Or simply a devious move to beat Detective Comics to the 900 mark?
Probably all of the above. This giant-sized special (and it is huge) marks the beginning of a third regular series for the Merc with the Mouth. That's right, Deadpool currently has as many monthly series as Spider-man. The series will count backwards – next issue will be #899, and so on – and focus on team-ups, which essentially marks the title as a superfluous option for those who simply cannot get enough of Wade Wilson.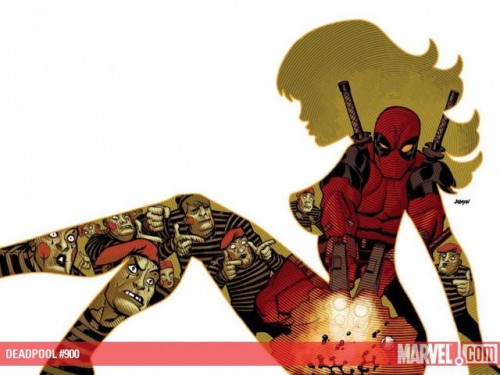 The deluge of shorts eventually becomes overwhelming, but the range of writers and artists on display lend the collection such a dark strain of humour and pure randomness in tone that this book is reminiscent of 2000AD at its very best. You're bound to discover something you enjoy, even if several of the 8-12 page tales are absolute nonsense.
The highlights include Deadpool getting probed by aliens, battling a trio of indestructible mimes and having his corpse examined by the cast of C.S.I. Las Vegas (or near enough). But it's the two quieter moments that offer a unique perspective on the character; Mike Benson's 'Shrunken Master' and Charlie Huston's 'One Down' are both existential efforts that would make Grant Morrison proud.
Unfortunately the special's latter portion hosts a longer story, which sees Deadpool making a hit in Japan with a Mini-Me clone of himself in pursuit. Ironically, 'Japanese' is the least adventurous and interesting contribution here, and it's a shame that Marvel saw fit to break from what was proving a winning format for the character. Nevertheless, Deadpool fans will find a lot of bang for their buck here.
7/10