Robot Paper
Story: Jamison Raymond
Art: Ryan Howe
Jamison Raymond's Henchmen continues in the form of a 6-issue miniseries, entitled I, Henchbot. I really enjoyed that original one-off special, with its lovable schmuck of a protagonist and unique tone that juxtaposed a fun superhero spoof with the more grounded and relatable tale of a father battling redundancy.
Despite the numbering, this is essentially Henchmen #2, resuming exactly where the original comic ended. Portly, forty-something ex-office supply salesman Gary is still very much unemployed and unemployable. His short-lived gig working for the villainous Headpin of Crime (who, as the moniker suggests, is literally a heavily-armoured bowling pin) has given him the bright idea of setting up a union for criminal goons with his former cohorts.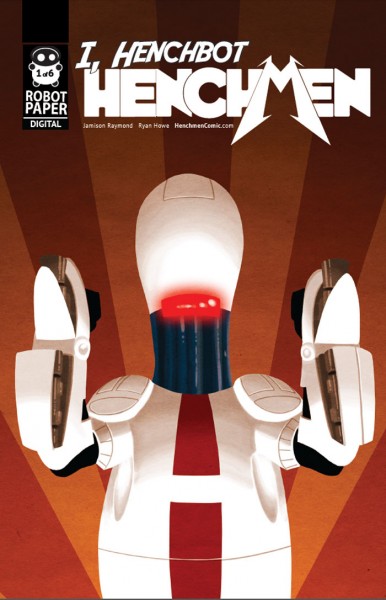 However, their questionable business endeavour is likely to come up with heavy opposition in the form of sinister corporation Vimco, and its newly announced "henchbots" – robotic minions that will soon render human criminal underlings obsolete.
Raymond has a great time with his substantial characters, particularly sympathetic loser Gary and the now-incarcerated Headpin of Crime, and the world of Henchmen feels as though it's been around for a lot longer than it actually has.
Ryan Howe is equally comfortable illustrating both the ludicrous costumed capers and Gary's very real predicament. While his art loses something in the move from colour to black & white, his clean inks and a gift for facial expressions still shine.
I could expend more words telling you how good this series is, but I think the best compliment I can pay the first issue of I, Henchbot is simply that it's hugely enjoyable, with enough heart amidst the lampoonery to make me genuinely care for its main character.
I, Henchbot #1 will be released on the 21st of January 2015, but for now you can download a free preview by signing up for the newsletter here.