This is Indie Penance, my regular(ish) look at the finest, funniest and/or craziest indie projects and creator-owned comics to have come my way.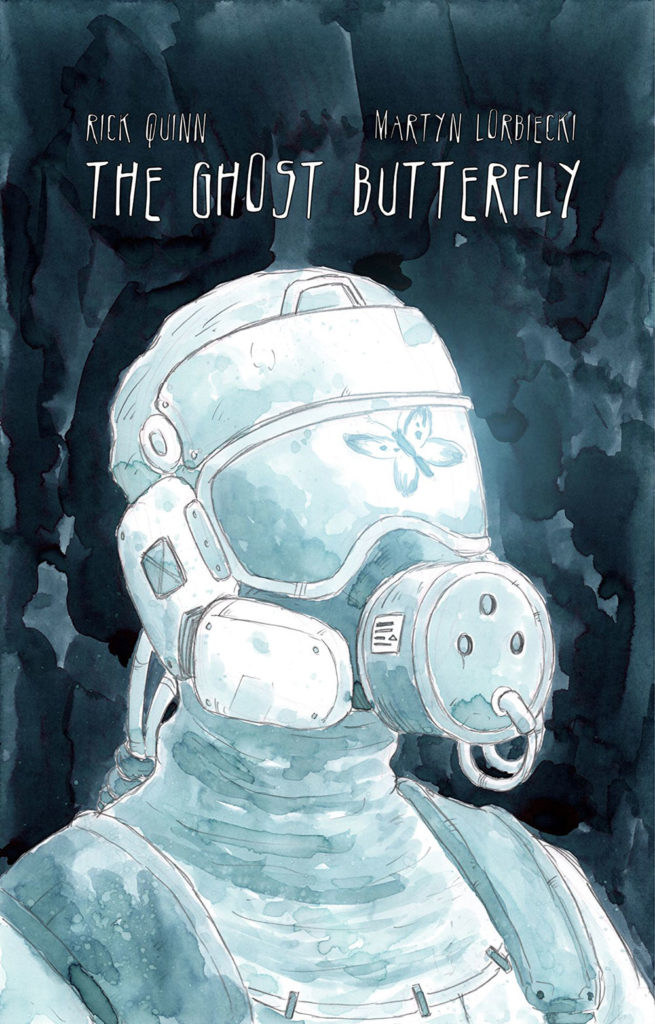 Ghost Butterfly
I thoroughly enjoyed Rick Quinn and Dana Obera's one-off Saltwater, a grim dystopian tale with an aquatic twist and a finalist for the 2017 Ghost City Comics Competition. Quinn's latest, Ghost Butterfly, illustrated by Martyn Lorbiecki, is a completely different kind of dystopian tale, but one which retains that first effort's theme of finding hope in a bleak and desperate future.
Another one-off, Ghost Butterfly follows David, a hazmat-suited surveyor in a deadly nuclear wasteland, and explores his remembrance of all that he lost. The book is largely devoid of dialogue, told through Lorbiecki's beautifully haunting landscapes, with a palette that shifts from the mundane to the exotic as the story juxtaposes between present-day and post-apocalypse.
In a medium and genre so often swollen with over-exposition, Ghost Butterfly refreshingly leaves much of its world and back-story to the reader's imagination, and I had only a marginally better idea of what was going on by the end of the book than I had going in. Some readers may find this frustrating or unsatisfying, but I appreciated what Quinn and Lorbiecki are aiming for, and indeed achieve. This surreal and visually poetic effort is so slight that it leaves you wanting more, but in the best possible way.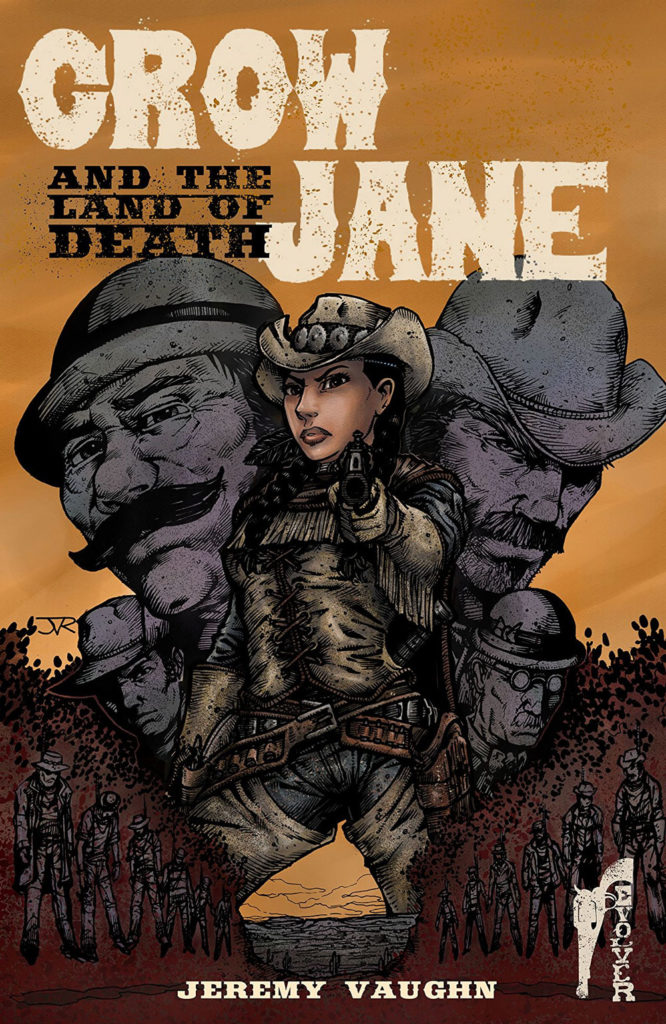 Crow Jane
Crow Jane is one of several offerings from Panel Pirates, a new indie publisher with some pretty darn slick genre titles, and by far my favourite of the titles I sampled. Jeremy Vaughn's titular Wild West heroine is equal parts Clint Eastwood's Man with No Name and James O'Barr's The Crow, with some Native American mysticism thrown in for good effect.
Jane is a bounty hunter with a conscience, walking a wasteland of criminal scum and double-crossing lawmakers. She's also indestructible, if not invulnerable, and not unlike The Witcher's Geralt her undoing tends to be a sense of humanity in a barren wilderness that favours the wicked and amoral.
Vaughn isn't afraid to show his influences in his gritty yet dynamic art and modern dialogue, but while the series is unashamedly pulpy it's not without a sense of pathos. Two issues are out so far: Issue #0, aka Crow Jane: And the Land of Death acts as an origin story, and is available to read for free at www.PanelPirates.com.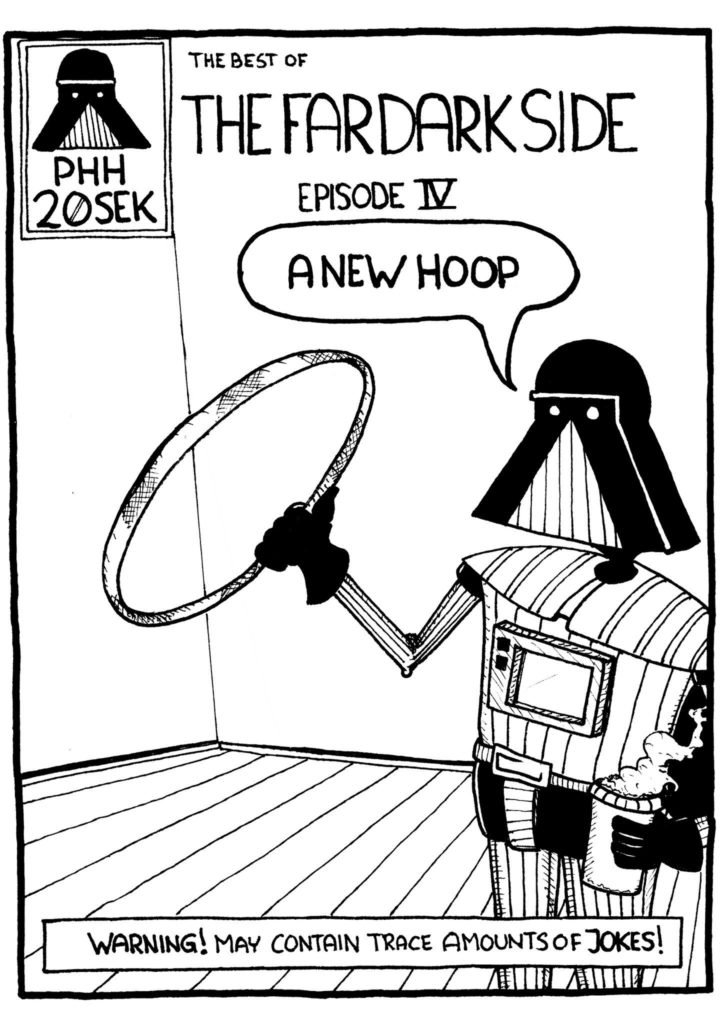 The Far Dark Side
Swedish cartoonist Per Hedman's "little fanart comic" (in his own words) is a funny yet often surprisingly downhearted swipe at everyone's favourite dark lord of the Sith, by way of Larson's The Far Side. The series' single-panel strips reveal a Darth Vader who is lost, lonely, awkward and somewhat antiquated, as he explores anything from running a small business and going on vacation to judging the annual Miss Gonk award.
This is a delightfully bizarre little series, one that playfully exists as both a reverential Star Wars parody and its own unique entity. Much of Hedman's humour is derived from his delightful art and the absurdity of it all; a Vader who seems to exist beyond the confines of time and universe, and is fit for any purpose depending on the needs of the strip.
What is your voice of reason?#DarthVader #TheFarDarkSide #StarWars pic.twitter.com/XDZuKl0vky

— Per Hedman (@that_phh) December 16, 2017
The strip is updated daily, and can be followed on Facebook and Twitter. Pedman also publishes small A5 collections of the strips, the fourth volume of which, The Far Dark Side: Episode IV: A New Hoop, can be purchased via either of the aforementioned social media pages for $6. Each is limited to a small print run and signed, with a unique message written on the back cover. Poverty has kept me away from comic festivals for the past couple of years, and Hedman's personalised little touches within this physical edition reminded me why I love self-published comics so much, as well as fan fiction when it's created with such affection.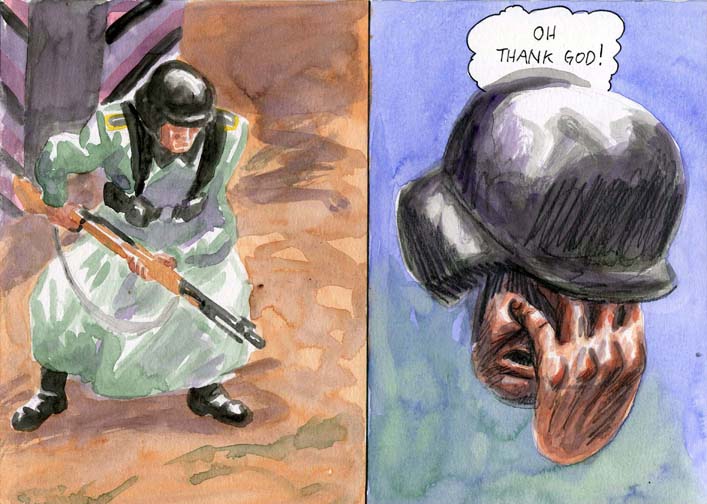 CGhirardo's 'Untitled'
Untitled is an ongoing webcomic by the extremely versatile artist CGhirardo, the pseudonym of Claudio Ghirardo. CGhirardo has self-published numerous comics, as well as working on such titles as And They Call Us Monsters with Rob Andersin for WrittenSins.com, and Red Stylo's Harvey Nominated anthology The 27 Club. His work on Untitled is experimental in nature, seemingly exploring every medium and storytelling approach under the sun, but an idiosyncratic sense of self-reflection and meditation runs throughout.
The strip's most recent efforts include anthropomorphic animals pushing the frontiers of modern art, the influence of Picasso on CGhirardo's own 'neo-humanist' style (in which his distinct characters are illustrated with elongated proportions and elastic limbs), several atypical obituaries, and a few entries so surreal that I'd struggle to encapsulate them. So I won't.
For a good idea of CGhirardo's work, look no further than last November's brilliant 'The Dawn of Comics,' in which CGhirardo romanticises about working as a comic artist in the 1940s, only for his fantasies to succumb to harsh reality. It's simultaneously charming, funny and utterly miserable, and rather profound. Untitled is a unique and admirable series and I'd love to see a physical collection one day soon.