2017, BOOM! Box
Story: Kirsten Smith, Kurt Lustgarten
Art: Naoimi Franquiz
Colours: Brittany Peer
Misfit City, the new series from 10 Things I Hate About You scribe Kirsten "Kiwi" Smith and Kurt Lustgarten, is another sure-fire hit for BOOM! Studio's BOOM! Box imprint. Much like Goldie Vance and Lumberjanes, it's a quality all-ages title hoping to bring new readers into comics with stories that contain progressive values and multicultural characters.
It's also much more fun than I've just made it sound, with an engaging team of misfits and even more interesting locale in Cannon Cove, Oregon. Cannon Cove is the sort of small American town that evokes Stephen King on every level, a place notable only for being the filming location of classic eighties movie The Gloomies, and whose inhabitants are weary of the vulgar tourists turning up with no appreciation for anything beyond a quick nostalgia fix.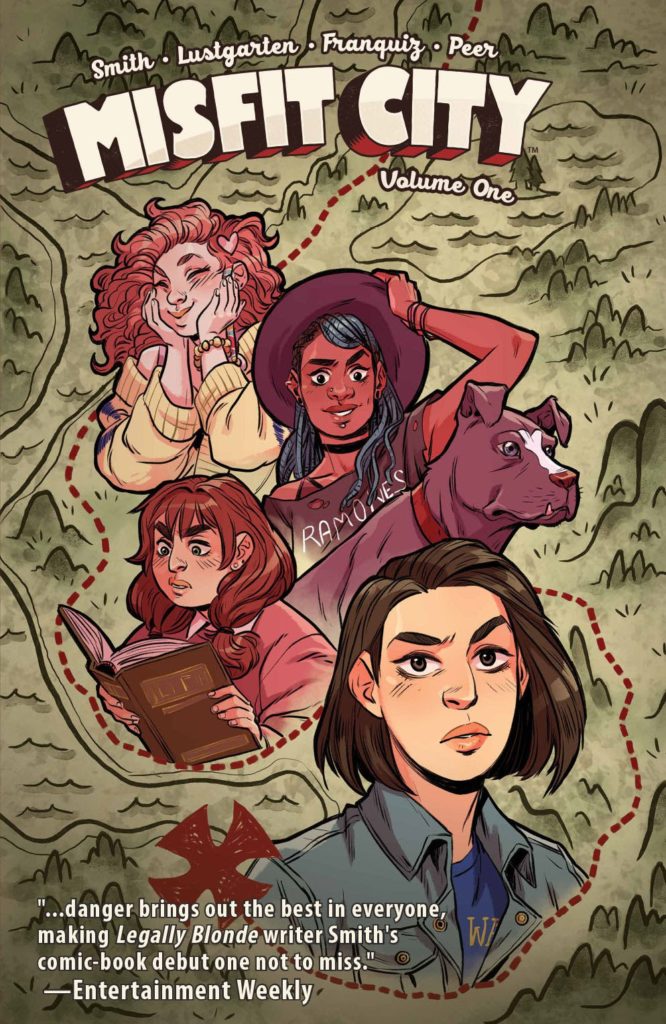 I've no idea if the inhabitants of wherever The Goonies – to which The Gloomies is such a clear nod that I feel embarrassed to state it – was shot have to tolerate similar irritants. Regardless, it's a brilliant concept, one that defines both its character's worldviews and the adventure they set upon following the discovery of a real-life pirate treasure map and arrival of two sinister visitors. Cannon Cove's dark history is only teased in this collection of the series' first 4 issues, but tantalisingly so.
Each member of the Misfit gang ticks a certain demographic box: there's the idealistic and eco-friendly Wilder, spiritual Karma, rock chick Macy, brainy introvert Dot and lesbian Ed. Oh, and Pip, a rescued pitbull terrier. Pointing out Misfit City's characters as archetypes may sound critical, but Smith and Lustgarten's dialogue brings them to life with a lightness of touch that's both knowing and sincere. Like the best comic book characters, the Misfit crew are instantly recognisable but rich enough in their depiction to be relatable to readers of any age or gender. Also, did I mention that the gang's sixth member is a recued pitbull?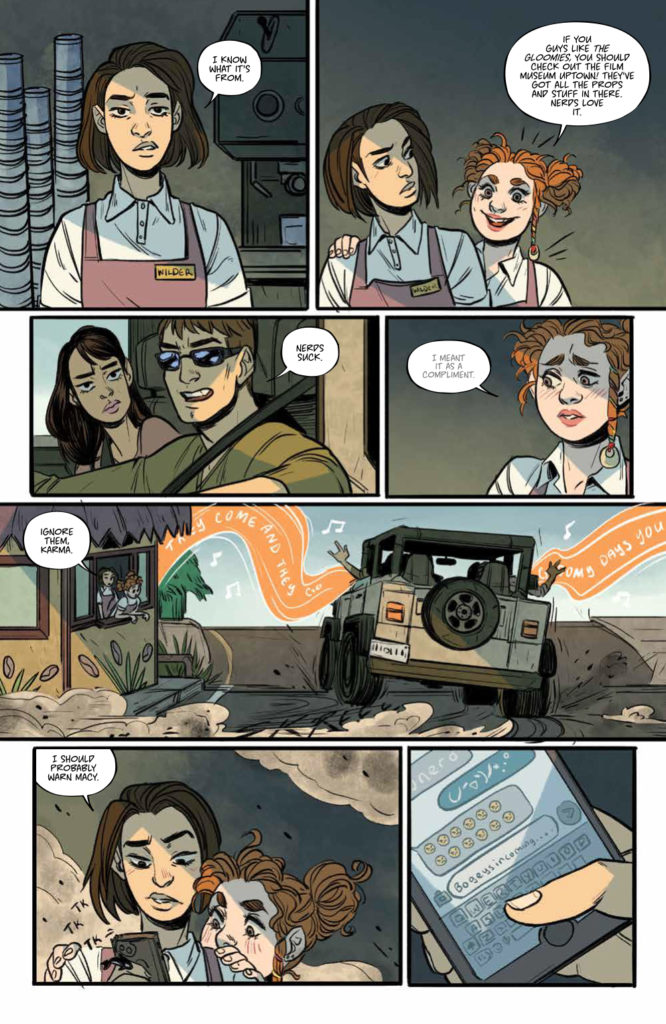 This is all given the gift of life by Naoimi Franquiz, whose characters look beautifully imperfect, with bold eyebrows and noses lending them a plausibility that so few acclaimed artists ever get right. These girls feel real even within the confines of their Saturday morning cartoon adventure, and are given back-story in the smallest of visual details. Overweight academic Dot's librarian mother looks like her but not exactly like her. Brittany Peer does a great job with the colours, too. Cannon Cove (I keep instinctively writing either Candle Cove or Cabot Cove) is suitably, ahem, gloomy, in contrast to lively interior scenes and distinguishable character designs – excluding the fabulous Macy, who continuously changes her appearance like some sort of out-of-control shape shifting rock goddess.
I don't often review all-ages titles these days, simply because I find myself in that murky territory of enjoying the better examples on a technical level but feeling obliged to admit that they aren't created or produced with this particular reader in mind. With Misfit City I had no such qualms – the self-aware but charming script had me laughing out loud, the characters are colourful but relatable regardless of the reader's age or gender, and the arresting art made every page a joy.