Boom! Studios
Writer: Mark Waid
Art: Peter Krause
Irredeemable is a strange series. It's easily one of the best titles currently on the shelves, and yet it's difficult to get overly excited about. Mark Waid's persistent flashbacks do stall the action on a monthly basis – I seem to whiz through each issue in less than ten minutes, ultimately left feeling somewhere between satisfied and desperately wanting more (which, to be honest, is how I fell about much of life).
Somewhat disappointing was the sudden closure of the Modeus androids' escape. When these mechanical replicas of the only villain ingenious enough to pose a threat to the Plutonian disappeared at the end of Issue 5, it seemed as though Waid was piling a further hazard upon the ineffectual members of the Paradigm. That this was cleared up in several pages was an anticlimax to say the least.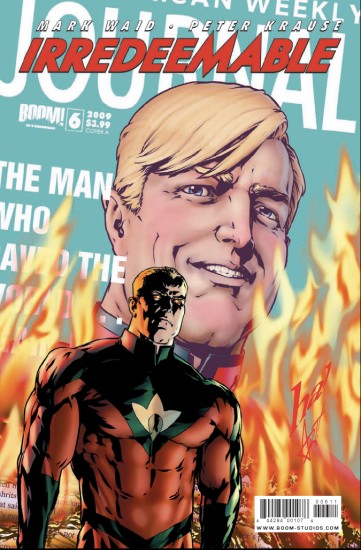 To be fair, calling the central super-team ineffectual is a bit of an overstatement. One of Irredeemable's central themes is the dependency that the team previously had on the Plutonian. Yet were Superman (who it is safe to say the Plutonian is a shameless analogue of) to turn against the JLA, he'd still face stern competition in the form of Green Lantern, Flash, Wonder Woman and many others. With the exception of tech-genius Qubit, it's hard to imagine the rest of the team as ever being anything less than redundant. Take Gilgamos, for example; a pair of angel wings hardly merits inclusion into a cadre of the world's finest heroes.
Anyway, that's enough petty nitpicking. Like many more elaborate superhero tales Irredeemable is clearly intended to be read in graphic novel form. Waid's storytelling is superb, with gradual but regular revelations veering the story into new directions. Peter Krause's art may is as ever consistent, and has serious grow on me over the past six issues. Four weeks seems an excruciating long time to wait and witness what atrocities the Paradigm have discovered in the Plutonian's volcanic lair.
8/10