DC
Writer: Bill Willingham, Matthew Sturges
Art: Jesus Merino
Colours: Allen Passalaqua
As proudly stated across the cover, a new creative team marks a new start for Justice Society of America. Readers expecting anything to rival Fables from Bill Willingham are going to be disappointed, as this issue's plot was as old-school as many of the titular team's elderly members.
Not that 'Fresh Meat' was by any means terrible; as is ever the way with comic books, it was merely a mediocre first instalment to this reboot. In perhaps the most bizarre comic plot I've encountered in some time, Alan Scott's son Obsidian has turned into an egg. The team haven't much time to ponder why before B-list villain Tapeworm is live on air, holding hostages and threatening to kill them if Wildcat does not face him alone.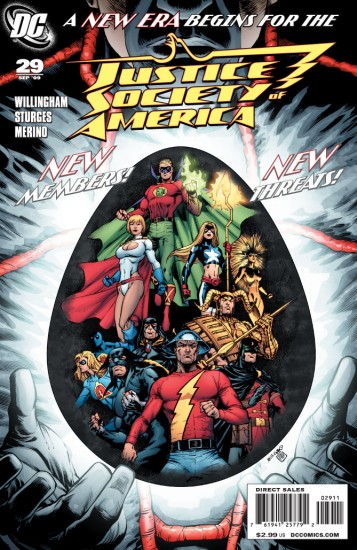 This issue was a bit of a missed opportunity, in that no effort was made to attract new readers. Were Marvel publishing this title, they'd have provided an introductory page with miniature character bios and a reading guide at the rear; here DC has done little to inform us of the JSA's burgeoning current roster.
And quite a roster it is. With two junior recruits added to the JSA, there's now nearly twenty team members all vying for attention in a 22-page book. The series will be getting split into two titles later this year, which can only be a good thing; the JSA has some of the most interesting heroes in the DC Universe, including Hourman, Mister Terrific and Doctor Midnight, and these guys deserve more attention.
6/10