By: Marc Crane, Mike Young
"You always been this much of a bitch, or do you work at it?" a sleazy one night stand asks Lil, the eponymous femme fatale in Marc Crane and Mike Young's eerie neo-noir tale. Thirty-four years old, Lil doesn't so much live as exist, her waking hours spent waiting tables, shooting up, screwing the strangers she meets in bars and struggling to suppress the evident years of abuse.
She's a wretched character, then, but not an entirely unsympathetic one. And when the casual theft of a bag from a dingy public restroom reveals that Lil has a stalker, she spirals further along her path of self-destruction. Like rubberneckers gawking at the site of a car crash, readers are reluctantly dragged into her increasingly surreal world of progressively vile scumbags.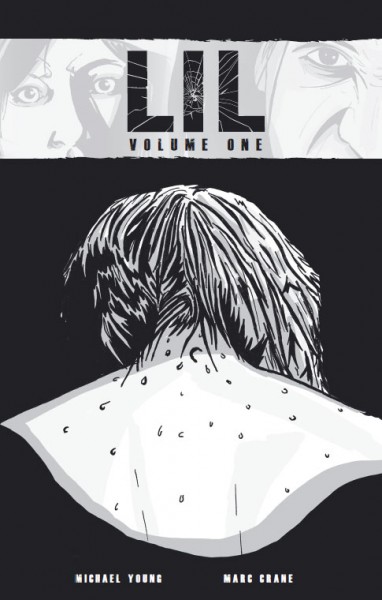 It always fills me dismay when I read the work of independent creators who so desperately want mainstream attention that they relinquish the freedom of expression that self-publishing affords them. Not so with Lil; this comic is entirely its own beast, drenched in an almost otherworldly atmosphere, and containing an assortment of comically horrifying characters. It's become something of a cliché to describe uncanny fiction as "Lynchian," but Lil's world is askew in that most unsettling of ways.
If there's one criticism I have of this 68-page first volume, it's that beyond the central mystery, readers aren't given a lot to chew on. This is pretty much the nature of self-published comics, I guess, with creators stuck in a bit of a Catch 22: they need the interest (and cash) to continue a project such as Lil long before they are able to release it in its fully realised form.
In its current state, then, Lil left me wanting for more, but in the best way possible. Crane and Young have created an impressive and idiosyncratic debut, and one that is definitely worth investing in. The first 5 issues, which are collected in Volume One, are available to read for free at www.lilcomic.co.uk, so there's really no reason not to give this series a try.
Physical copies of Lil Volume One are available here for £7.00 (just over $10.50), and at Orbital Comics, if you happen to live near London.