Titan Comics, 2015
Story: Alan Martin
Art: Jamie Hewlett, Craig Knowles, Warwick Johnson-Cadwell, Jim Mahfood, Philip Bond, Jonathan Edwards, Brett Parson
Jamie Hewlett returns to the iconic 80s/90s comic character for the first time in 20 years, re-teaming with series co-creator Alan Martin and a battalion of series stalwarts and new talent.
Tank Girl spawned from the pages of enduring British anthology magazine Deadline, becoming a vaguely feministic counter-culture icon before struggling to enter the mainstream via a dismal (and strangely unmemorable) film adaptation. The character then swiftly faded into obscurity with sporadic comic book returns failing to recapture that early success.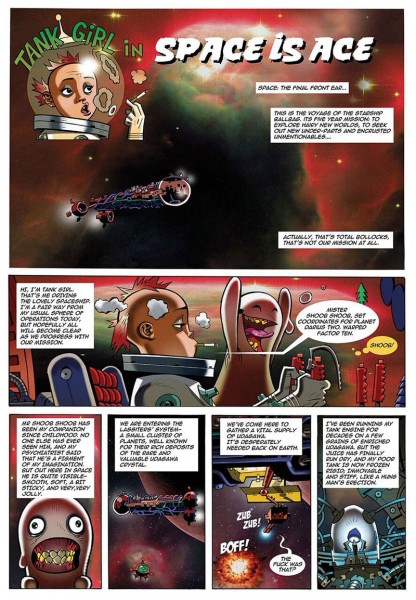 21st Century Tank Girl is notable, then, perhaps even commendable, in that Martin doesn't attempt to recreate that success. Instead, he celebrates it with a series of alternate and unconnected takes on the original premise, filching its elements and reformatting them into something instantly recognisable but consistently new.
The book is presented as a pastiche of old British annuals – the larger format, hardback sort that these days are released at Christmas and mainly filled with reprints of American material – and is complete with prose stories and humorous fillers between each comic. The comic segments themselves see the foul-mouthed sociopath take to the stars in a penis-shaped rocket, battle for survival in deadly game show 'The Runny Man', and take down a newly established Walmart… I mean Ball-Mart… to aid a beloved small business. You get the general idea…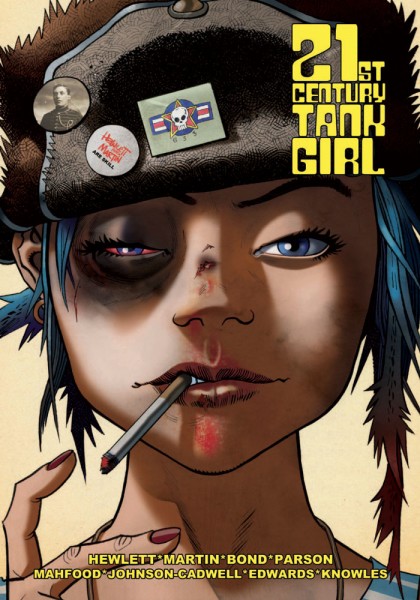 Alan Martin's plots are expectedly irreverent and not bogged down by any semblance of continuity, which when it works proves rather refreshing. However, this approach also highlights my issue with everything Tank Girl – I find no attachment to any of its narcissistic central characters. That's arguably kind of the point, but as Tank Girl goes about her merry path of destruction I don't find her endearing or enviable but instead want her to die the quiet death she deserves.
Disappointingly, despite Hewlett's much-touted return, to his first Tank Girl strip since the virtual band Gorillaz made him an unlikely superstar, he only draws one story here. That said, the other artists are all talented and completely different in terms of style and storytelling approach. While the character will undeniably always be Hewlett's, the likes of Brett Parson and Craig Knowles bring the post-apocalyptic mayhem to life in a blistering style that can still only be described as a) British and b) early nineties.
Beyond the nostalgia value, there's not a lot of substance to 21st Century Tank Girl, but was there ever going to be? Regardless, it's a fun book that captures the spirit and youthfulness of that bygone era, and Martin's writing is still as anarchic and genuinely funny as it was two decades ago.