Septagon Studios, 2012
Writer: Lara Fuentes
Art: Patricio Clarey
Archaeologists of Shadows paints a cybernetic vision of the future, in which technological modification has not only become standard, but the organic is being phased out in favour for the mechanical. When the government begins enforcing transformation, deeming it the will of their gods, the slightly-less-mechanized-than-they-should-be Baltimo and Alix are forced to abandon their locomotive home and seek answers from the titular resistance group: the Archaeologists of Shadows.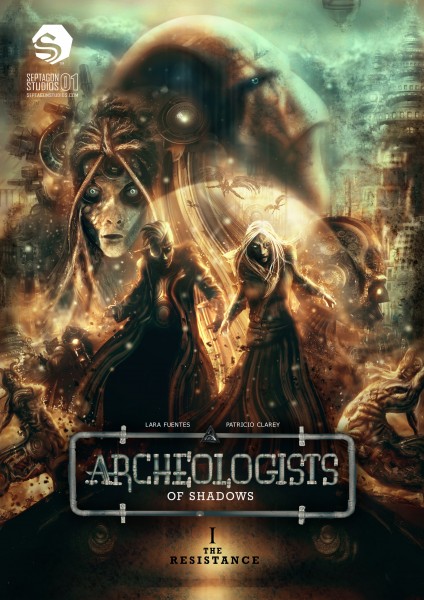 Spanish creators Lara Fuentes and Patricio Clarey have crafted a stunning universe which takes visual cues from steampunk, cyberpunk, high fantasy and the biomechanical imagery of HR Giger but feels entirely its own entity.
The first thing you'll notice about the book is its unique artwork, which combines, according to its creators, "drawing, sculpture, photography, photo manipulation, and digital painting." Hyperbolic compliments such as "stunning" are perhaps dispensed a bit too frivolously in comics journalism, but every page of Archaeologists of Shadows is a work of art in its own right, and I often found myself staring into the detailed textures and wondering exactly how Patricio Clarey put the entire thing together.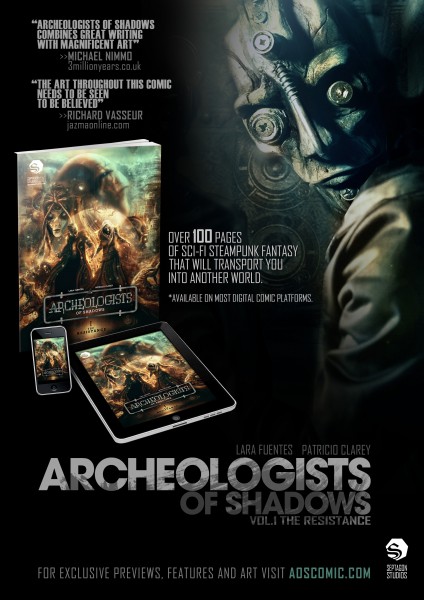 Fortunately, this volume contains an extensive sketchbook section, which shows Clarey's creative process in considerable detail, as well as a preview of Volume 2: Once A Nightmare, which is also now available.
The plot itself isn't quite as absorbing as the art, and perhaps suffers from a lack of relatable flesh and bones characters; hardly surprising given the premise. But Archaeologists of Shadows: The Resistance is an epic and often spellbinding experience, and stands as a fine example of the creative freedom that independent comics and digital/global markets permit.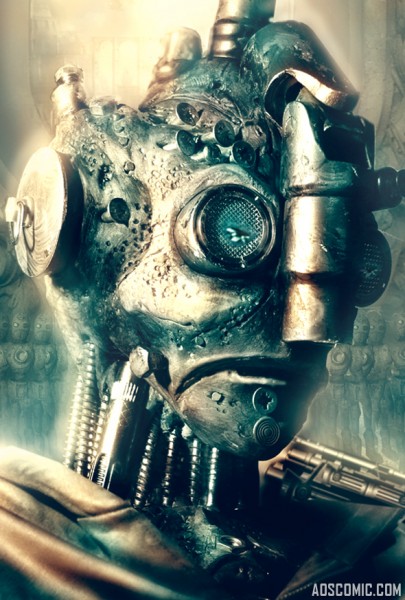 In the book's afterword, Fuentes writes that the series was initially rejected by Spanish publishers reluctant to take a risk on a book which was considered too different. Their loss, I say.
For more information on the book, as well as its follow-up, visit www.aoscomic.com.