2018
Story: Dave Thompson
Art: Kevin Butters
Historical fiction is possibly the genre most underserved by comics, with the medium's prevalent sci-fi and fantasy leanings rarely allowing for plausible reinterpretation of the past. While it clearly takes liberties with its subject matter, Dave Thompson and Kevin Butters' Casanova in Paris is an exception, a dense and often credible portrait of the legendary lothario Giacomo Casanova that aims to show there was more to him than just a charismatic seducer of wealthy French ladies.
Naturally, Casanova in Paris is not without its fair share of bawdiness. However, Thompson's fractured narrative, which begins with young Casanova escaping from a prison below the Doge's Palace in Venice, is as much about the turbulent landscape of eighteenth century Europe as it is the titular Venetian. Amidst the political and social turmoil following the failed assassination of Louis XV, Casanova arrives in Paris in 1757, joining a motley crew that includes a ribald monk and an actress, and attempts to rebuild his finances by investigating the disappearance of a wealthy businessman. However, his detective work soon attracts the attention of the sinister spy network known as the Shadows of the King.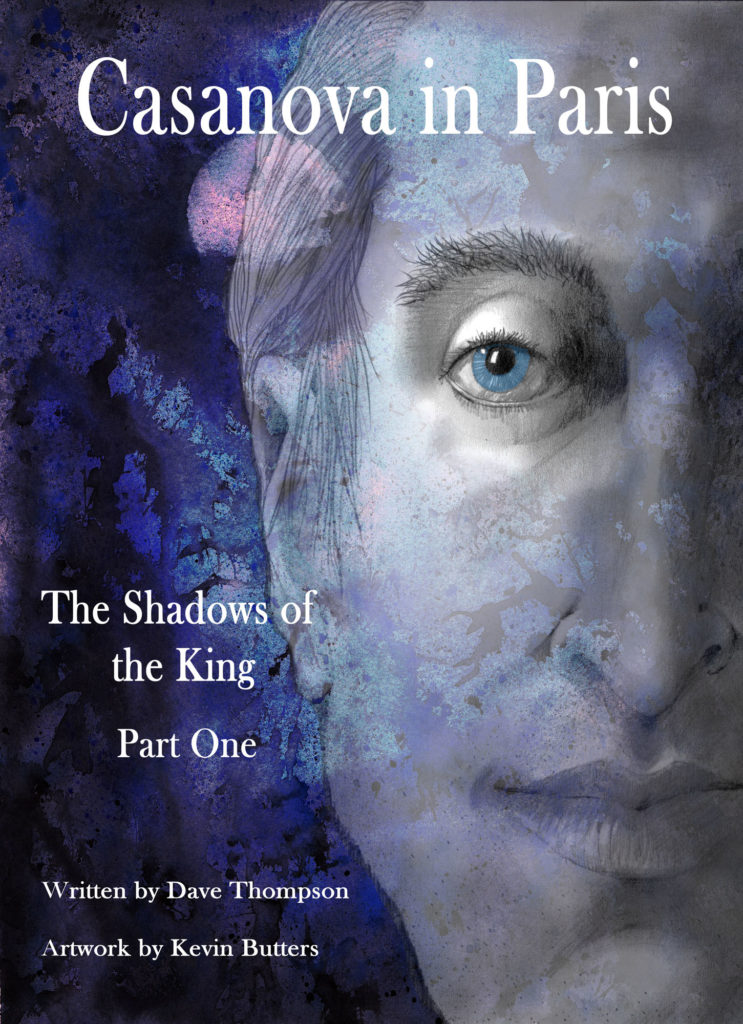 I spoke to Dave and Kev earlier this year. They're both retired teachers who've committed to this gargantuan project, a labour of love that is already nearly a decade in the making. As with most long-gestated labours of love, this first volume is structurally a bit of a mess, bouncing between characters and subplots with abandon, but Thompson's extensive knowledge of his subject makes it a compelling read throughout, and the volume's central adventure holds the narrative together.
The book begins with a succession of prose entries, and each of the twelve chapters are preceded by a POV introduction from a different character. I've yet to decide as to whether books that combine prose and sequential art are the future of comics or the works of creators unable to make up their minds what they want to do. Regardless, here Thompson's engaging prose works, if more as a primer in eighteenth century values and class structure than as plot support.
Kev Butters' work is likewise eclectic, combining a range of traditional mediums and approaches. Butters' characters are largely repulsive; crooked and bulbous noses looming over uneven teeth amidst misshapen faces. While Hollywood and BBC dramas may still seek to celebrate the fashions and décor enjoyed by the elite, his isn't an era in which anyone would choose to exist.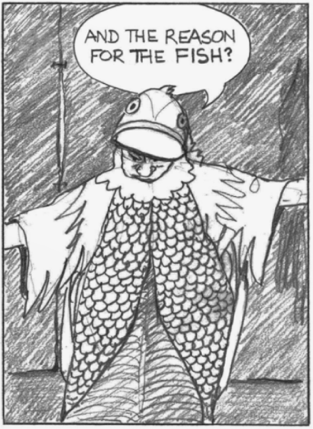 This is Butters' first graphic novel and it's often evident that he's learning the comic craft as he goes along. His distinct and refreshingly primal art is occasionally marred by the rudimentary use of digital techniques, but every awkward or ambiguous panel composition is countered by an extremely eloquent establishing shot or wonderful moment of surrealism. The comic segments are mostly rendered in pencil, with colours used sparingly but effectively; the book truly comes to life when splattered in deep red and purple tones, most notably in the hallucinatory sixth chapter. I'd love to see a full-colour version of the book, as improbable as that may be given its scope.
Again, this is an incredibly ambitious project, and watching two unlikely newcomers to the form develop over the course of 'The Shadows of the King' is a reward unto itself. Thompson describes the book as depicting "the world of an extraordinary life that was much more than the romantic exploits of film legend," and it's his comprehension and passion for the period that lend Casanova in Paris a sense of authenticity that similar accounts lack. His Casanova isn't a hero, or even especially likeable, but rather a resourceful survivor and a product of his inequitable surroundings. Tellingly, and rather unexpectedly, this is the first fictional depiction of the gifted chancer to make me appreciate just why he's endured so.
If you're interested in the series visit www.casanovashadows.com, where you can read the first ten chapters of Part 1 for free or sign up for a paid membership that promises regular instalments. There are also numerous long-form articles on Casanova's life and times. This Dave Thompson guy knows his stuff.