2016, BOOM! Box
Story: Hope Larson
Art: Brittney Williams
I once had the pleasure of being criticised for my review of Hope Larson's 2010 coming-of-age tale Mercury, which a reputable blogger considered unduly positive for a book they deemed bland and forgettable. A reasonable enough criticism, to be fair, and one to which I would have happily responded were I able to remember the book in question a few months after writing said review…
But hey, I'm all for throwaway fluff – there's nowt wrong with comics being fun, charming and eagerly insubstantial. Goldie Vance, Hope Larson's new teen detective series following the exploits of a sixteen year-old amateur sleuth living on a Florida resort, may also be amusing and light-hearted but it's far from forgettable.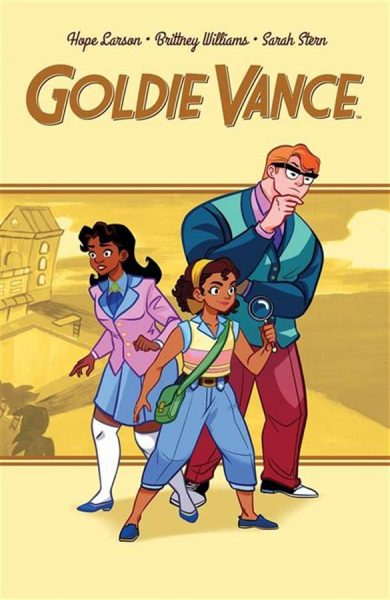 Marigold "Goldie" Vance is an irrepressible force of mischief and well-meaning inquisitiveness, whose valet job at the hotel her father runs is jeopardised when she attempts to recover a stolen necklace. Larson's script emits a definite Nancy Drew vibe, but Brittney Williams' charming art also lends it the sheen of a modern day Hanna Barbera cartoon, one that consistently evokes a Scooby Doo caper minus the talking pooch.
As with her work on Patsy Walker, A.K.A. Hellcat! Williams straddles the retro and the contemporary. The bright and cheerful locales Goldie visits on her search for missing jewellery and a kidnapped scientist feel fresh; not so much because they're particularly unique but because we rarely see such pleasant backdrops in comics.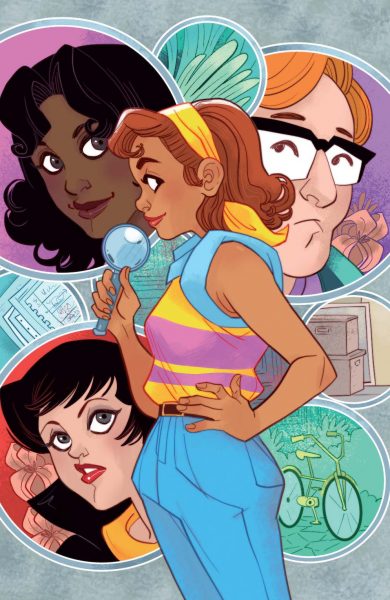 Goldie Vance is published under BOOM! Box, the BOOM! Studios  imprint putting out comics described by editor Shannon Watters as "progressive, joyous series that strive to attract new readers to the medium and keep them there." I'm sure that much will be made of Goldie Vance's mixed-race protagonist, but Larson doesn't bog the plot down with any sort of agenda; these are characters of different ethnicities but not characters defined by their cultural background. It's reassuring to see such a diverse cast, one not only spread across numerous ethnicities but genders and a variety of ages too, especially given the younger readership this series aims to capture.
Volume One comprises the first four issues, and while the crime itself isn't anything particularly noteworthy, Larson's frantic pacing, the culturally diverse cast, Brittney Williams' wonderful character designs and the spunky young sleuth herself all come together to make Goldie Vance a joy to read.
Some story concepts simply "click" with readers more than others, and I'd be more than a little surprised if Goldie Vance doesn't collect quite the following and make her way to other mediums in the near future.