2017, SelfMadeHero
Written and illustrated by Néjib
I'm a rare form of David Bowie fan, in that, Labyrinth aside, I've very little nostalgia for the man or his music. In fact, I only really "got into" Bowie a few years before his death, after a potent combination of Adam Buxton impersonations and the magnificent 'David Bowie Is' exhibition at the Victoria and Albert Museum sparked a fascination that slowly became an obsession.
However, for the majority of his fans, the Bowie mythology owes itself very much to a certain time and place. Those who don't rank Low or Outside at the top of their favourite Bowie albums will be delighted to know, then, that Haddon Hall: When David Invented Bowie provides a vivid retelling of David Jones' prolific 1969-1972 period, following the flop of The Laughing Gnome through to Hunky Dory and culminating in the invention of Ziggy Stardust and the Spiders from Mars.
Franco-Tunisian artist Néjib's colourful take on this era, however, recounts events from a rather unconventional perspective. It's narrated by a sentient Haddon Hall.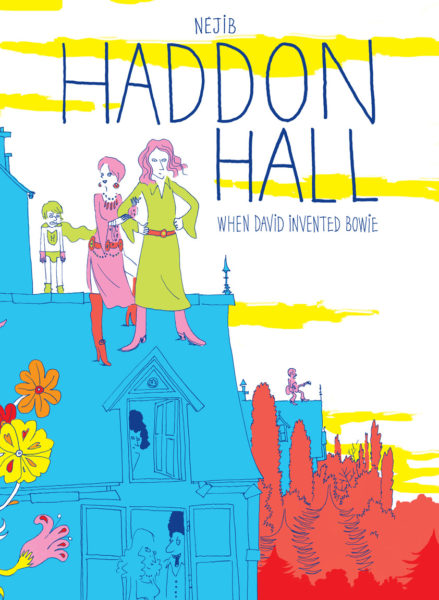 With considerable pride, the now-demolished Victorian villa recounts its fondest period, a South London where musical revolution was imminent. Haddon Hall's commune of creative Bohemians hosted the likes of Marc Bolan and John Lennon, and Néjib nods to every key player in the Ziggy Stardust origin, from wife Angie to Tony Visconti and Mick Ronson. Even Iggy Pop makes a cameo of sorts, in one of my favourite moments.
Apparently inspired by the work of Yellow Submarine artist Heinz Edelmann, Néjib's London is a garish hallucinogenic dream drowned in yellow and pink, where the fledgling Bowie is a mere chord in a composition of like-minded souls. At first the bold art occasionally felt a little too detached from reality to fully capture the period, but I soon came to appreciate that Néjib is more concerned with capturing the spirit of the age than its minutiae, with music so alive that it often takes physical form. In one scene, a performance is described in not words but zigs, zags and curves.
If there's one major criticism I have of Haddon Hall, it's that Bowie's formative years don't reveal much about the man or his creations, with Angie sidelined to a rather literal supporting character. Given that Angie's influence on David's fashions and fictions and the tumultuous nature of their relationship are well-documented, it sometimes feels a lost opportunity that Néjib is so focussed on capturing a romanticised period that has only ever existed in memory.
Nevertheless, there are plenty of other books that divulge the nitty gritty, and it's difficult not to fall in love with Haddon Hall's joyous energy. When the book peeks beyond the glam it truly sparkles: a meeting with a condescending John Lennon emphasises Bowie's resentment towards his working-class background. Angie's failed audition for the Wonder Woman TV show is a stark forewarning of things to come, while the scenes featuring Bowie's impersonal parents and psychotic half-brother Terry offer melancholic insight into his withdrawn nature.
Releasing just after the first anniversary of his death, Haddon Hall: When David Invented Bowie is a fun book and a must for Bowie enthusiasts, even if its light touch skirts his subject's less celebrated traits and behaviour. Were the book about anyone other than Bowie, that might be more of an issue; instead, Néjib's trippy reflection of an artist who remained enigmatic against his best efforts feels rather fitting. Bowie was candid about his work in interviews, yet his body of work will forever retain its mystery. Ziggy Stardust, Aladdin Sane, the Thin White Duke and other iconic creations were all born from a yearning for wider recognition, yet Bowie's musical evolutions rarely felt cynical. On second thoughts, maybe a sentient house was the best person entity to tell his tale.
Haddon Hall is published in the UK by SelfMadeHero, and releases 16 February. To celebrate SelfMadeHero's 10th anniversary, a fair number of comic stores are also offering 50% discounts on some of the publisher's back catalogue.