2015, Robot Paper
Writer: Jamison Raymond
Artist: Ryan Howe
Less a follow-up series than a continuation of Jamison Raymond's Henchmen one-off, I, Henchbot continues in fine form with its distinct mixture of superhero spoofery, surprisingly pointed satire, and an adorably flawed protagonist.
Portly, forty-something ex-office supply salesman Gary is still very much unemployed and unemployable, but has had the bright idea of setting up a union for criminal goons with his former cohorts. This is not at all in the best interests of sinister organisation Vimco, which has released costumed criminal Headpin from jail as part of a scheme to supply the superpowers industry with robot minions called "henchbots" – minions that will soon render human criminal underlings obsolete.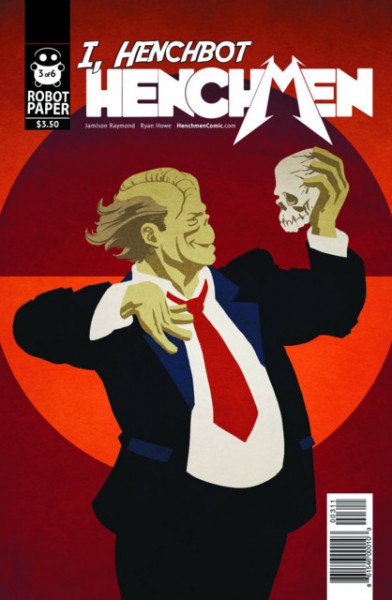 Headpin, who resembles a heavily armed bowling pin designed by Tony Stark, is at one point described as "not a villain, job creator", in regards to his employing of henchmen, which tells you everything you need to know about the wonderful world that Raymond and Howe are slowly forging.
The superhero parody may treat well-worn territory, but I think what elevates Raymond's storytelling above similar fare is his focus on grounded drama and human characters. Gary is a good-natured schmuck, whose foibles are entirely relatable. In spite of its ludicrous premise, I, Henchbot is a story with heart; the super villains and their heroic counterparts may well be parodies but the series never sacrifices its main characters for the sake of a cheap joke (though it has its fair share of those too). Behind the superhero shenanigans and the likes of the dastardly Microwave and his heroic counterpart Aluminum Foil, there's a level of bleak realism to the plight of the central goons, who simply want to make it to the next pay check.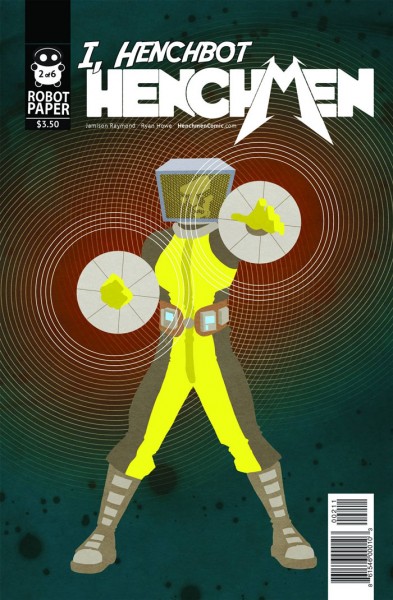 I did feel that by extending the premise of the brilliant Henchmen one-shot, Raymond loses a little of that singular story's focus, particularly with a subplot featuring Gary's daughter, but he and artist Ryan Howe have so much fun with the premise that it really doesn't matter. Howe's art is the perfect partner for Raymond's script, with an art style that capably balances the ludicrous costumed heroes and villains (Aluminum Foil is as ridiculous as he sounds) with the series' more down-to-earth characters.
The world of Henchmen is one so lovingly and cleverly realised that while reading it I completely forgot that the series has been running for a mere seven issues. This is a comic book universe with much life in, and I'd love to visit Gary and company again soon.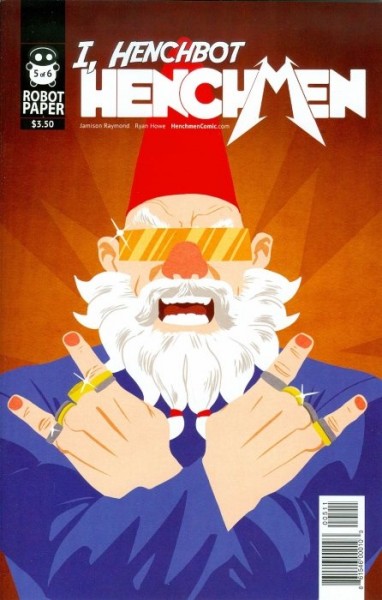 I, Henchbot is available in digital form up at the Robot Paper store. But I recommend, nay insist, that you begin with the Henchmen one-shot. Or, better still, support the kickstarter appeal for the physical graphic novel that collects the entire series with a foreword by Mark Waid and prints by the likes of Darick Robertson, Jim Mahfood and Ryan Browne.