SelfMadeHero, 2013
Written and Illustrated by Paul Collicutt
Outside of its literary adaptations, SelfMadeHero has been making a name for itself by publishing the sort of quality graphic novels which don't quite fit into a convenient genre or marketable niche, such as Glyn Dillon's The Nao of Brown. Paul Collicutt's The Murder Mile, an Arizona-based detective story set in 1954 and detailing on the battle between several middle-distance runners to achieve the world's first four-minute mile, is another idiosyncratic gem.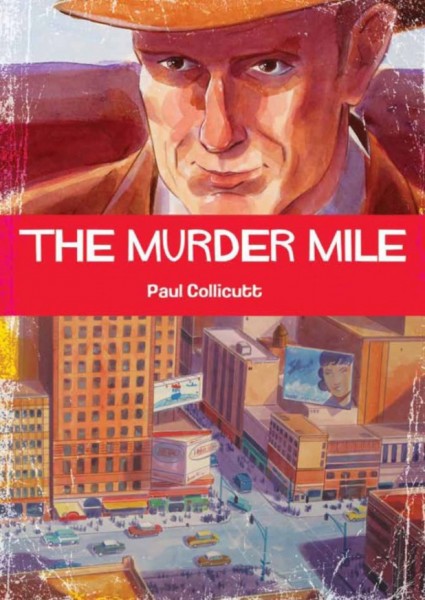 When the body of a top athlete is found face down in the Arizona desert, P.I. Daniel Stone is brought in to investigate. Stone is a track and field enthusiast, and as he investigates the usual corruption and gambling rings one might expect from such a tale, Collicutt takes us through the concurrent events that lead to Roger Bannister being the first man to beat the four-minute mile, as well as the athletes who bettered that time soon after.
While it may wear all the tropes of hard-boiled fiction on its sleeve, The Murder Mile is actually far more quaint and "English" in tone. Despite the American location, the book bears more comparisons to Chariots of Fire than Chinatown. Even protagonist Stone, the Chandleresque trilby-wearing private eye, is more a gentlemanly athletics enthusiast than the down-on-his luck gumshoe one might initially expect.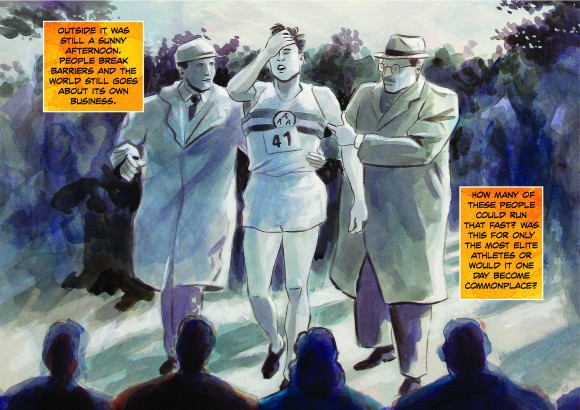 Collicutt's beautiful watercolour illustrations, which practically come alive during several flashbacks to the Normandy landings, lured me into a world and subject matter I had no former knowledge about (I had no idea who Steve Ovett, who provides a touching foreword here, was). But I found the historical context fascinating and weirdly magical; as Collicutt emphasises in the book, once Roger Bannister ran the four-minute mile for the very first time, no other athlete would ever be able to declare the same.
The Murder Mile is a leisurely-paced affair, and Collicutt (himself a runner) is clearly enjoying himself more when depicting the honourable rivalry between Roger Bannister, Lohn Landy and Chris Chataway than when unfolding the book's central murder mystery. As a result, the narrative suffers somewhat from a lack of suspense or intrigue, and I never felt as gripped by the plot as I was the real-life events surrounding it.
But The Murder Mile is nevertheless an enjoyable and outstanding read. Paul Collicutt's passion for athletics history is evident on every lovingly crafted page, and he paints a wonderfully nostalgic portrait of an era when there were still milestone sporting records to break.