2016, TFU Studios
Written and created by James Reitano
While I'm indubitably happier at thirty-six than I was in my teens, it's somewhat paradoxical that I still find catharsis in coming of age tales, which evoke that precious period when an intoxicating combination of freedom, culture, confusion and personal expression were too much for my tiny testosterone-driven mind to handle.
Likewise, James Reitano's largely autobiographical Nineteen Eighty Five (or 1985 – the book's press material doesn't seem to mind) is chiefly a nostalgic retrospective of a young life fuelled by graffiti and hip-hop. At its best, however, it's also a celebration of the value of subculture, as well as a melancholy reminder of its transient nature.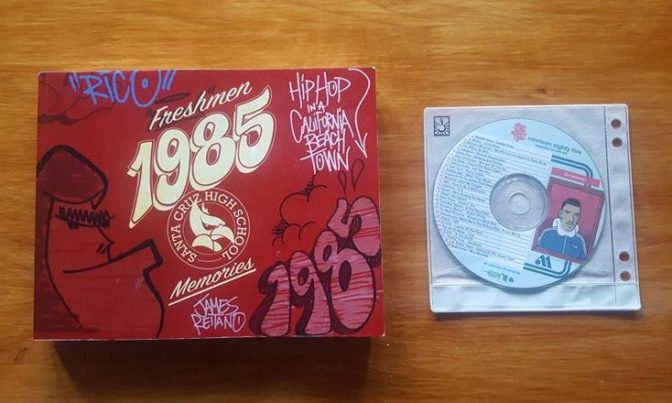 As the title might suggest, Nineteen Eighty Five follows a single year in the life of James Reitano's fifteen year-old "writer", The Count (distinguished by a wavy monobrow and red hoodie that he's never seen without) and best-friend Rico as they make their literal mark on Santa Cruz. I actually reviewed issue #3 a few years back, and while the series' brief vignettes are fun, it's only when read in full that those vignettes form a truly engaging narrative. As the year unfurls, the Count's relationships with rivals-turned-allies Sly & Duo or his quest to find the enigmatic Camo – whose identity builds to an almost mythological scale within the minds of our central artists – come and go with an intermittency that only adds to the book's authenticity.
It's somewhat telling that Reitano's colourful characters are constructed from a few elegant lines, while his depiction of Santa Cruz often receives all the affection. The book has a wonderful sense of time and place; included on a few pages are QR codes that lead the reader to the book's real-life locations on Google Maps. Beyond the graffiti there's a sweet portrait of a bygone era (there are numerous references to the 1989 Loma Prieta earthquake that would level several of the places visited), and an underground movement that can only be revisited in memory.
The thing I love most about (semi-)autobiographical comics such as Nineteen Eighty Five is that they provide a glimpse into both the artist's origins and a period that's as far away from my childhood as the New York graffiti scene was from the Count's. James Reitano presents a world that is just as removed from mine as Joe Sacco's Palestine. I'm neither a big fan of graffiti nor an opponent… I'm not even sure I have an opinion on it. But it matters not that the book's reminiscence of a specific point in music and cultural history was lost on me, for his passion for it comes across on every page.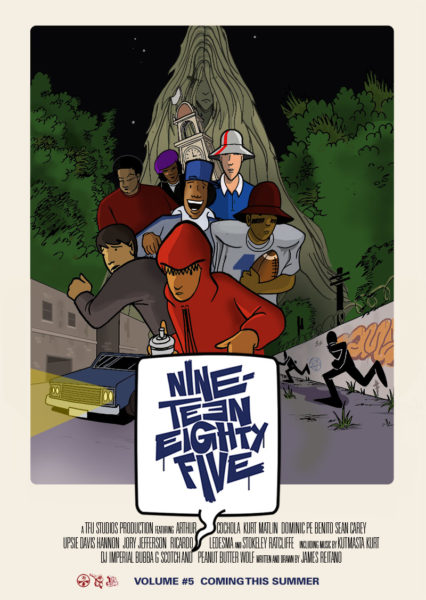 Reitano is now a graphic designer who has worked for the likes of Santa Cruz Skateboards, Wu-Tang Clan and Spike TV, and the Count's development as an artist who sees the difference between vandalism and artistic integrity provides a universal theme for all artist and creators. As does the swiftness with which his crew of graffiti artists disband, as girlfriends, jobs and study whittle away those whose heart wasn't really in it. As one character tells our protagonist, "All this stuff we represent, it's all bought and sold. It's all disposable."
The book is accompanied by a suitably eclectic soundtrack of mixes. I believe that each of the eight issues that form this volume featured a different disc. It's just one of several nice touches, another being the moving afterword, that make Nineteen Eighty Five a labour of love that'll appeal beyond its niche audience to just about anyone who managed to survive adolescence without also shedding their passion.
To purchase or find more info on Nineteen Eighty Five, visit www.nineteen85.com.