2018, Canongate Books
Written and illustrated by Erik Kriek
Dutch artist Erik Kriek, of the longstanding Gutsman, reinterprets five classic murder ballads in this brilliantly unsettling collection. In the Pines features 'Pretty Polly and the Ship's Carpenter', 'The Long Black Veil', 'Taneytown', 'Caleb Meyer' and 'Where the Wild Roses Grow'. Oddly, the titular ballad isn't among this grim quintet.
Kriek previously adapted H.P. Lovecraft's tales in From Beyond & Other Tales, and several of the pieces here breed a similar sense of otherworldly unease. The most interesting aspect of the book is Kriek's nimble reinterpretation of each ballad, often to pack in dramatic oomph or tragedy, something that was lost on me in a few cases due to my unfamiliarity with several of the songs.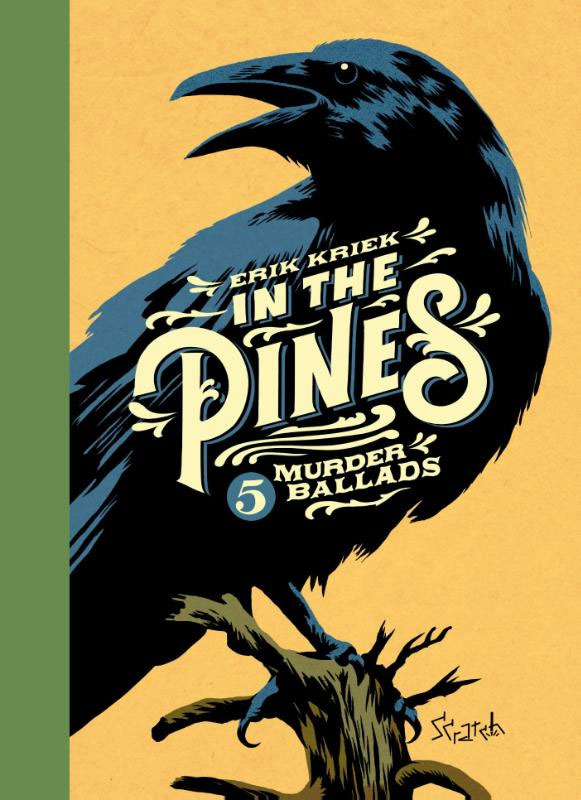 As an example, for In the Pines' take on Nick Cave and the Bad Seeds' 'Where the Wild Roses Grow', the most modern of the five ballads, Kriek twists the murder of Elisa Day to surprising and satisfying effect. 'The Long Black Veil' (made famous by Johnny Cash), in which a man chooses to hang rather than compromise the marriage of the woman he loves by using their night together as an alibi, is also given extra clout by the admission of a few ambiguous details, and is in many ways both the simplest tale and the most effective.
Kriek's artwork has a dreamlike quality to it, his characters' hollowed features drenched in misery, their condemned lives unfolding below the towering, hostile wilderness of the American South. The setting is the unifying protagonist here, a period in recent history (thought the songs are centuries apart) when budding civilisation and primordial evil could coexist next door to one another, and murders could easily remain unsolved. I particularly liked the fluidity with which the majority of Kriek's stories jump between the past and present, and on occasion the authentic and the imaginary, indicated by a simple loosening of the panels.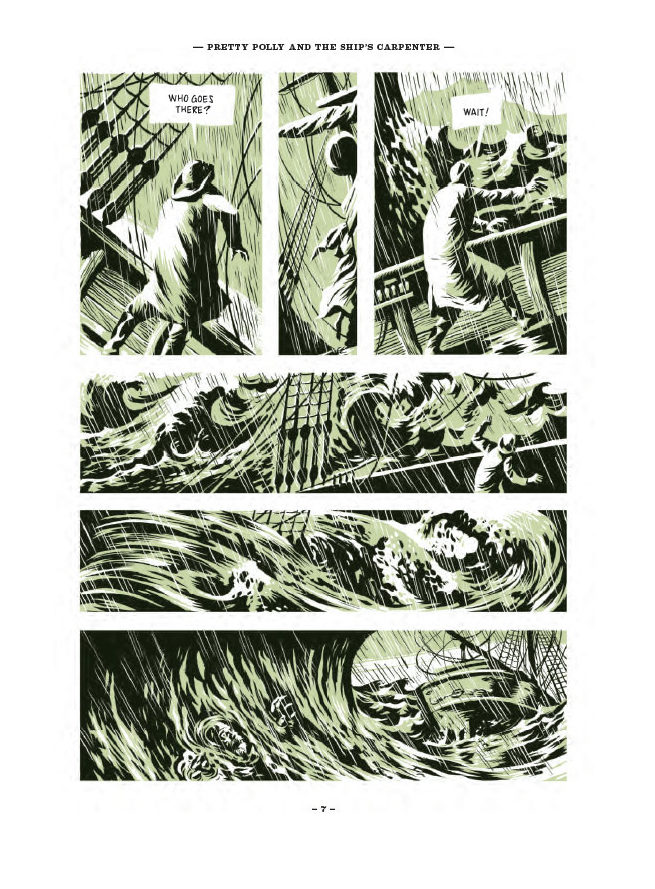 The book has been translated into English by Kriek and published in the UK by Canongate Books, and unlike several other releases my review copy didn't come with a CD featuring covers of the songs by Kriek's band The Blue Grass Boogieman [edit: see Erik's response in the comments below]. Would In the Pines: 5 Murder Ballads have benefitted from a soundtrack? Perhaps, though those songs are all available in a variety of fashions online, and an afterword by Jan Donkers provides some much-needed context on each tale. I suppose one might argue that Kriek's work is so lyrical and innate in its study of violence and human nature that it's just as enjoyable with minimal appreciation of the musical staples that inspired it.
In the Pines: 5 Murder Ballads is out now, published in the UK by Canongate Books.