Improper Books
Writer: Benjamin Read
Art: Chris Wildgoose
Colours: André May
When street urchin Child is forced by her Faginesque mentor to steal from the home of a wealthy hermit, known rather ominously as "the wizard", she finds herself in an enchanting world of porcelain creatures and robotic servants. Child is soon caught, but her transparent attempts at guile charm the reclusive inventor of these artificial beings.
The Porcelain Maker takes Child under his wing, and reveals to her the secrets behind his warped porcelain automatons, are animated via arcane symbols and a special ingredient hidden inside a vault-like room. The Porcelain Maker's one rule is that Child is forbidden from entering that room… which, in the grand fashion of fairy tales such as Bluebeard tells us that a) there is something sinister fuelling the automatons, and b) Child is eventually going to let her curiosity get the better of her and regret it.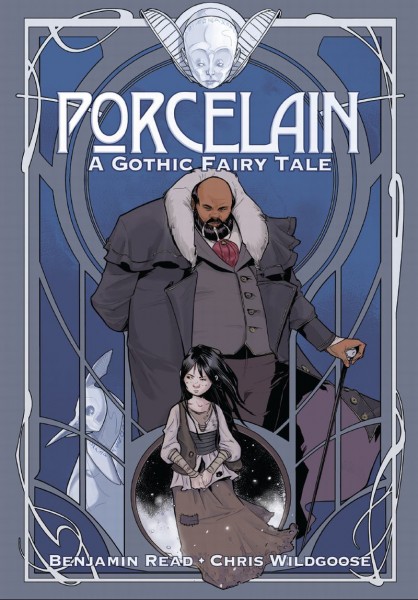 That's not to say that the plot is entirely predictable. Benjamin Read's script limits itself to just three human characters, and while these characters don't quite have the depth worthy of Chris Wildgoose's exquisite illustrations – though the Porcelain Maker's origin is weaved so neatly into the tale that you just might miss it – the tale never loses focus as it moves towards a haunting ending worthy of its 'Gothic Fairy Tale' subtitle.
According to his bio, Wildgoose "made his comic debut with the official true Grit and Super 8 comics, and has been working towards doing some good in comics ever since." Porcelain is clearly a labour of love, indicated by the extensive selection of beautiful concept art and sketches included.
Every page of Porcelain is captivating, with Wildgoose's delicate lines brought to life by André May's rich colours, which bathe almost every scene in purple, mauve and crimson. There are flavours here of both steampunk and the Victorian era, but Porcelain wisely avoids a precise time or location.
Porcelain: A Gothic Fairy Tale is the first title from Improper Books, an imprint for creator-owned works with a "touch of the fairy tale, the Gothic or the macabre." The market has been oversaturated with adult takes on Grimm's fairy tales of late, but this book has more than enough charm and originality to justify its existence on any shelf.
Porcelain finds that fine balance between enchanting and gruesome, and it's creators know just when to cross the two. I look forward to see what Read and Wildgoose will bring us with their next dark fantasy collaboration, Butterfly Gate.