Porcelain: Ivory Tower Graphic Novel Review
2017, Improper Books
Story: Benjamin Read
Art: Chris Wildgoose
Colours: André May
Porcelain: Ivory Tower is the third instalment in the not-quite-but-almost steampunk saga by Benjamin Read and Chris Wildgoose, a series of graphic novels that is as about as luscious and realised a self-published effort as you'll ever find.
The first volume in the series, A Gothic Fairy Tale, was a beautiful but straightforward fable, in which a young street urchin, simply named Child, discovers the secrets of a porcelain kingdom at the centre of an alternate Victorian London, ultimately inheriting the ability to manufacturer artificial porcelain beings. I enjoyed that book, even if its simple plot underwhelmed in comparison to its visuals, but little did I suspect that Read and Wildgoose were planting the seeds therein for what has developed into a rich and distinct saga.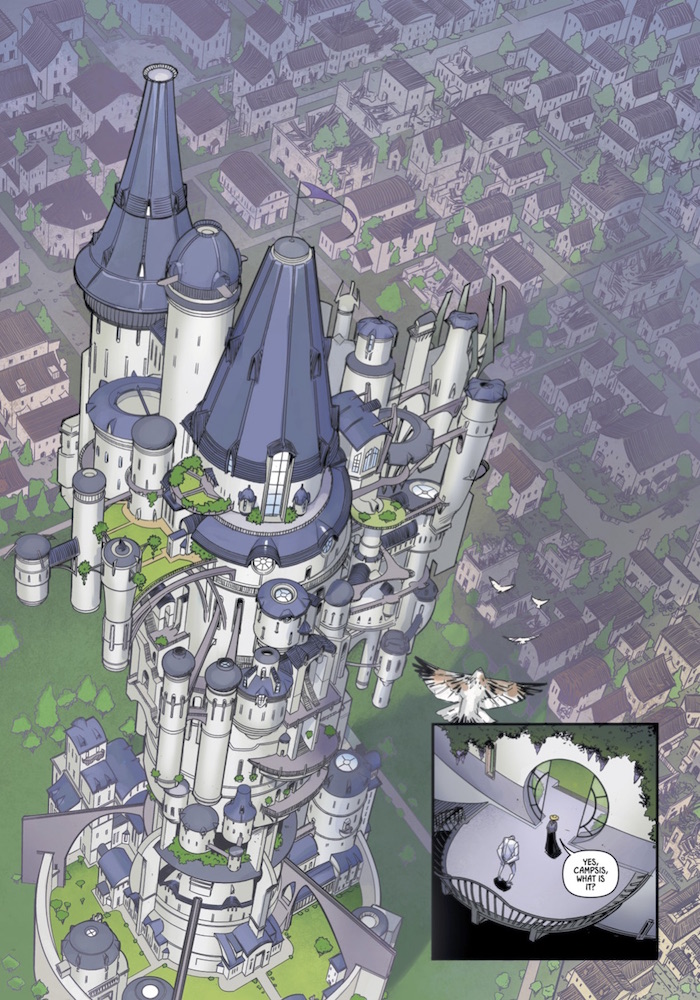 2015's follow-up, Porcelain: Bone China, saw Girl become Lady and face the wrath of a military leader, who demanded Lady build her an unstoppable porcelain army. It wasn't quite as iconic as the first, perhaps because it expanded and developed the original's fairy tale formula into something entirely its own, but I felt that Bone China was a far superior effort. Like the best of sequels, it built an entire world upon comparatively humble origins.
Book 2 also pushed its creators' storytelling to an entirely new level, which the mournful Ivory Tower does further still. Lady has now become Mother and rules a tower that looms over the surrounding metropolis, and must protect her artificial life forms and two daughters (I'm keeping these synopses succinct to avoid spoilers) from an increasingly fearful populace.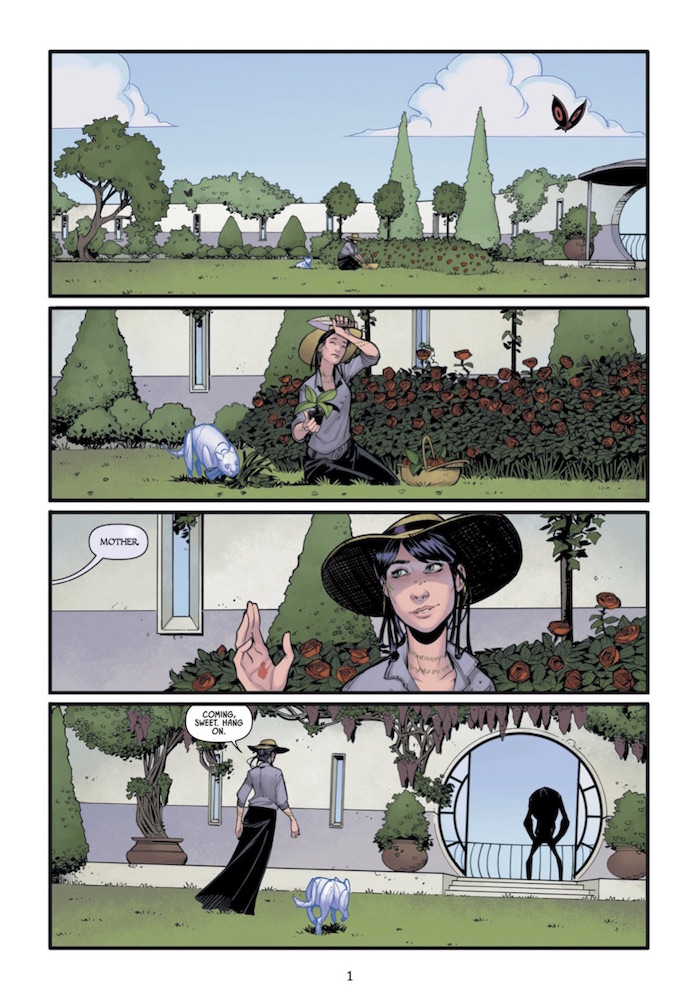 If Bone China ended in tragedy, Ivory Tower is truly devastating, building to a magnificent but painful crescendo that affected this reader deeply. But those familiar with Read's work will know that he doesn't go easy on his characters. The first volume in the series was a visually sumptuous book, but the somewhat stilted dialogue and small scope offered only occasional glimmers of what an amazing series this would become. As with that second instalment, here Read's characters now brim with personality and world-building trimmings that are often hinted at only through small talk in the most tantalising fashion. As with Blade Runner futuristic landscape, this is a world made all the more fascinating for what we don't see, its central inhabitants forced to make fatal decisions that fate has cruelly rested upon them.
I'm often guilty of championing the writer over all other talents, but as excellent as Read's work is here, the series' major draw has to be Chris Wildgoose's art, which André May brings to life with measured outbursts of jade and burgundy. Wildgoose's designs have evolved alongside the series to mesmerising effect, and the concepts and notes at the rear of the book demonstrate just how much thought was put into every facet of Mother's ceramic world. This is a trilogy laced with tragedy, with each instalment ramping up the misery, and Mother wears the consequences of her decisions on every damn panel. Through the cleanest lines Wildgoose is able to age his characters, his nigh-on obsessive attention to detail revealing the pain and sorrow that has followed them through life. He's truly a tremendous artist, and I hope he continues to stick to rendering his own immensely imaginative worlds.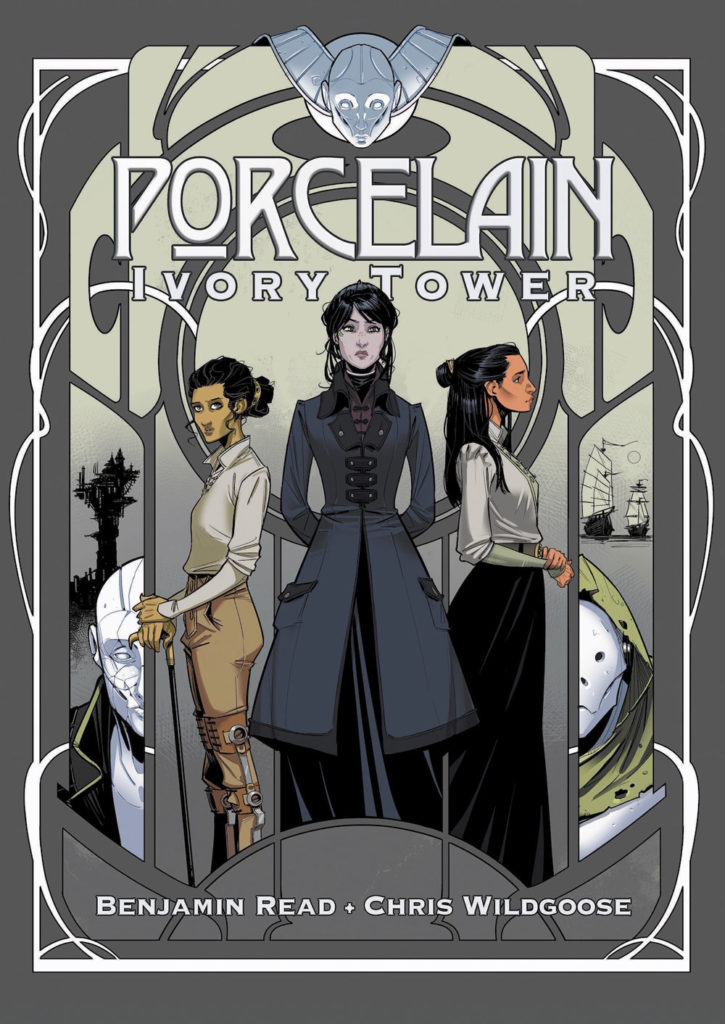 Last week, I visited a local art workshop to discuss comics and self-publishing with some talented young artists. I brought the first two Porcelain books with me as examples of indie comics that possess all the sheen of mainstream efforts without sacrificing their individuality or artistic vision. Porcelain has grown into an exquisite series, one that gets better with each episode, and needs to be read by anyone who wishes that fantasy comics took themselves more seriously.
Porcelain: Ivory Tower, and the previous books in the Porcelain series, are available now from most decent comic stores in the UK. Buy them now!