2017, Plume
Written and illustrated by Reza Farazmand
In his follow-up to Poorly Drawn Lines, Reza Farazmand once again takes readers through a surreal galaxy of incongruent characters and improbable worlds. His creations include Pacman-esque ghosts, philosophising pigeons, gun-toting squirrels, sentient planets and the recurrent Ernesto and Kevin, a talking bear and duck duo. As well as the occasional materialistic human undergoing an existential crisis, naturally.
Comics for a Strange World: A Book of Poorly Drawn Lines is apparently 50% brand new content alongside reprints, but as Charles Manson said in that old Family Guy cutaway, "if I haven't seen it, it's new to me."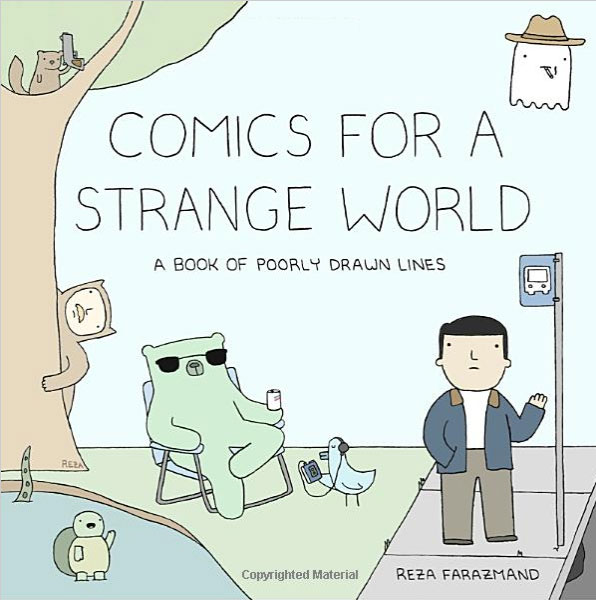 My favourite strip here, in which a detective ghost is forced to ponder his existence, can be read here. This single page strip is the epitome of what Farazmand does well; it's poignant in an understated and unexpected way, yet arguably says more about our small place in this even smaller world than 10,000 words of prose might. Farazmand's disarmingly irreverent humour doesn't always hit the mark, but it does at a consistently high rate and the use of recurring tropes and characters makes for an always enjoyable read that never fails to raise a smirk.
I've always found such collections of strips difficult to review, in that in order to fairly assess Comics for a Strange World I had to read it from beginning to end over the course of a few days. This isn't that sort of book. To veer dangerously close to paraphrasing Forest Gump, this book is like a box of luxury chocolates, one you'll want to return to daily but nibble on a single piece. Especially on those days when things are going really well and you need a dose of Farazmand's nihilism to restore your inner equilibrium.
Comics for a Strange World is available now from Penguin imprint Plume, though if you're unfamiliar with the original strip you can get stuck in right now at www.poorlydrawnlines.com.