Penguin, 2016
Written and illustrated by Richard McGuire
Richard McGuire's Google bio describes him as "illustrator, graphic designer, comic book artist, animator, children's book author, musician and toy designer", which just about ticks every box on a creative's bucket list. While McGuire's spot illustrations may not be familiar to New Yorker non-readers, you may have seen images from his acclaimed 2014 book Here, which juxtaposed images from different time periods to paint a grand picture of mankind's past, present and inescapably empty future.
As a Brit who grew up on an inflexible diet of comics, video games and literature, I wasn't aware of spot illustrations or their role in New Yorker tradition. In this age of digital media, the idea of small images used as space filler to balance page layouts is something of a near-extinct practice, albeit an apparently celebrated one. Should that practice perish any time soon, then Sequential Drawings would make a fine epitaph, to an art form that grew from necessity but in the right hands permitted boundless storytelling potential.
This diminutive 600-page collection categorises McGuire's illustrations by New Yorker issue (each issue has a different artist provide all spots), with most sequences forming a narrative or wry commentary. The most enjoyable of these usually involve anthropomorphic objects or animals, be it rampant stationary in 'Rock, paper, Scissors' or the enduring relationship between a postbox, parking meter and litter bin in 'Three Friends'. The brilliant 'Knife, Fork, Spoon; Love Triangle' condenses an entire soap opera plotline into nine simple images involving promiscuous cutlery.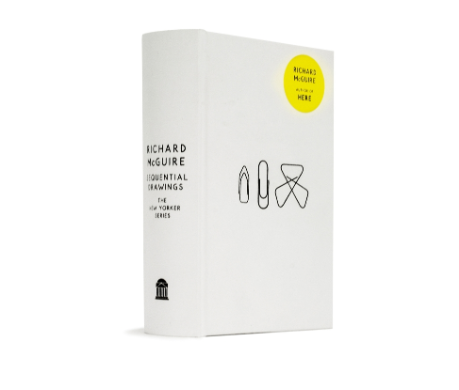 Other chapters simply present a series of thematically linked images, though these are far less successful than those that tell a tale, and are perhaps an argument for a slimmer volume. Regardless, entries such as 'Framed', with its play on perspective, are a treat. I loved the book's minimalist presentation, with each image placed on the right-hand page, almost begging the reader to speed through it as one might a flick book.
Perhaps that's the way Sequential Drawings' whimsical cartoons should be approached, with a fleetness befitting Richard McGuire's spot illustrations' original purpose as inconsequential space fillers; albeit ones granted more attention, wit and affection than many artists put into more significant works.