Recently, I've read several articles discussing the idea of curated content, I guess as a reaction to the predominance of algorithm-based suggestions that now decide most of our literary discoveries and impulse purchases. The late night BBC2 show Moviedrome, in which a cult movie was shown alongside a fun introduction by Alex Cox (and later Mark Cousins), was instrumental in igniting my love of obscure movies and books. I've always embraced similar endeavours since, even if they are so few and far between.
Anyway, Octal is a neat curated series that's part anthology and part sales pitch, each issue consisting of eight 8-page pilots and supplemental material. But here's the twist: the ulterior motive behind the series is to produce a pitch package that includes material from the best new comic talent, providing said talent with editorial guidance while still giving readers access to upcoming comics.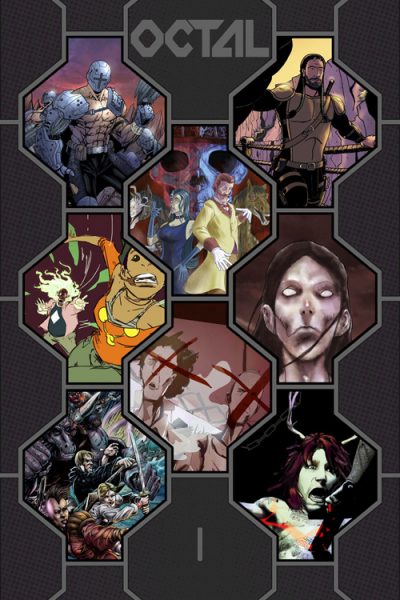 Octal creator Mike Schneider says that the submission guidelines are deliberately narrow, presumably pushing new creators to conform to a format that will best earn them the attention of submission editors:
We compared the submissions guidelines from over a hundred comic publishers to identify the areas with the greatest overlap, then worked with a bunch of submission editors to craft a set template that arranges that material into a clear, concise, and editor-friendly packet.
Schneider reports that two pilots from the first volume have locked down series contracts: Necromancer Bill has been picked up by Darby Pop, and Sane6 by Rat&Crow.
Volume 2 released last month, and includes an extended scene from Ron Batchelor and Rem Fields' immensely imaginative sci-fi series Disunity, which I featured previously in Indie Penance #8.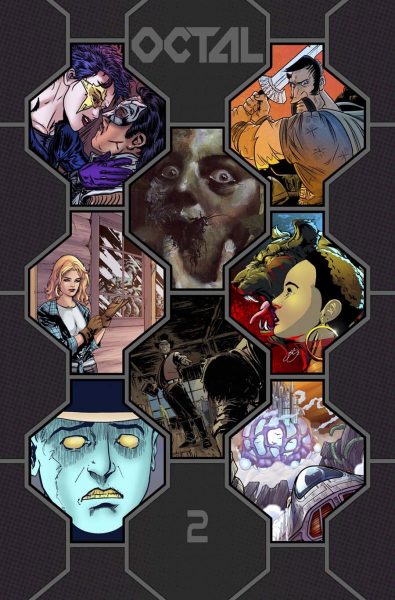 So yeah, Octal is shaping up to be another interesting avenue for indie comic creators looking to find that elusive publishing deal (and failing that just reach a wider readership). The thing I like about this series compared to similar anthologies is the focus; with only eight titles picked from the pile, both readers and submission editors can rest assured that their time isn't being wasted on anything but the finest new indie releases.
Octal is free to all editors and comic publishing staff, and can be bought for a few dollars on DriveThruComics. An ad-sponsored free Issuu edition is apparently on the way. For more on the series and its submission guidelines, visit OctalComics.com, where those interested in contributing to future volumes will also find a rather comprehensive instruction manual.