2013, One Peace Books
Writer: Tiziana Lo Porto
Art: Daniele Marotta
As part of my ongoing mission to seek out comic book oddities, I've stumbled across some unique books that prove just how flexible and diverse the medium is. But perhaps none have been quite so idiosyncratic as Superzelda: The Graphic Life of Zelda Fitzgerald, a graphic novel biography detailing the life of F. Scott's equally famous wife, muse and antagonist. Zelda was the archetypal "flapper" – a new breed of strong-willed and independent Western women who helped define the Roaring Twenties.
What perhaps makes this take on the woman who inspired such works as The Great Gatsby and Tender Is the Night so interesting is that it's constructed largely from letters, documents and the couple's literature. Though not nearly as successful as her husband, Zelda also wrote short stories and one (finished) novel, Save Me the Waltz, which received a largely negative reception on release. There are even quotes from modern writers and artists, including such individuals as Patti Smith, thrown into the mix like the talking heads clips which often interrupt docudramas.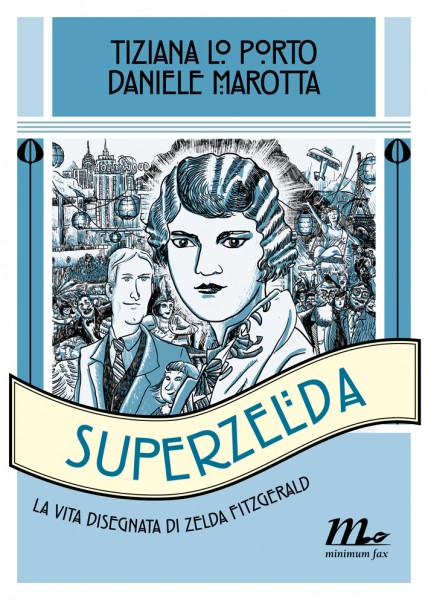 It's this all-embracing and near-obsessive approach to the book which makes Superzelda such a joy. I can only assume that Italian writer Tiziana Lo Porto and artist Daniele Marotta worked very closely on the book throughout its development. It's difficult to spot the seam between the scripting and illustration stage; the extracts, original text and Marotta's delightful art gel into something quite beautiful.
That said, for all its charm and craftsmanship, Superzelda: The Graphic Life of Zelda Fitzgerald failed to enlighten me as to why Zelda deserves such analysis and idolisation. If this book is anything to go by, she was an undeniably complex individual, but also an unpleasant, spoilt, vain and arguably insignificant one. Many of her quotes come across as shallow and blinkered, when I suspect that the opposite effect was intended.
Zelda's modern counterpart could be considered the sort of self-entitled little princess that has tantrums on reality TV because her parents bought her the wrong car. Would I want to read about such a creature were she to marry and inspire a revered film director? Probably not. But one of the consequences of this book being so comprehensive is that it rarely has time for judgement. In this case, I'd say that approach definitely works in Superzelda's favour.
While Zelda Fitzgerald's life story itself didn't particularly engage me, Superzelda succeeds in providing some insight into both this feminist icon and her significant other, as well as painting a vivid portrait of celebrity in its early stages, and I really enjoyed the book's charming presentation and compulsive attitude.