With friends and family around us falling victim to unemployment and poverty, the funny books are becoming an increasingly guilty pleasure for the conscientious comic geek. Those who like the idea of their disposable income going into something other than Mickey Mouse's pockets may be interested in Nelson, a charity graphic novel that sees the talents of 54 British comic creators combine to aid housing and homelessness charity Shelter.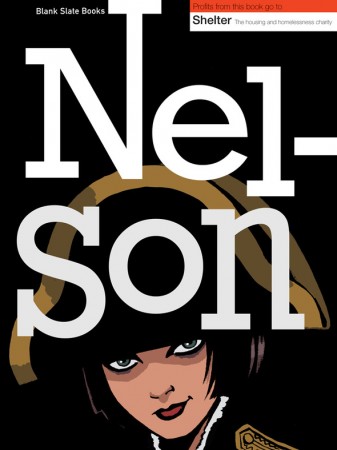 Nelson is no mere anthology, either, but something far more ambitious; a 250 page story of one woman's life from her birth in 1968 to the present day. Presumably the range of artists, which includes such mainstream names as Duncan Fegredo and Sean Philips (see below for the full list of contributors), will each take on a stage in the protagonist's life.
"When [editors] Rob [Davis] and Woodrow [Phoenix] came to me with their idea for Nelson, straight away it seemed to me that it should be a charity project" states Kenny Penman, Publisher at Blank Slate, "The British comic scene is more vibrant than ever before, and the opportunity to unite this diverse group of creators to aid the greatly important work that Shelter does in these difficult economic times seemed too good to miss."
Here's the full list of contributors:
Paul Grist, Rob Davis, Woodrow Phoenix, Ellen Lindner, Jamie Smart, Gary Northfield, Sarah McIntyre, Suzy Varty, Sean Longcroft, Warwick Johnson–Cadwell, Luke Pearson, Paul Harrison–Davies, Katie Green, Paul Peart–Smith, Glyn Dillon, I.N.J.Culbard, John Allison, Philip Bond,D'Israeli, Simone Lia, Darryl Cunningham, Jonathan Edwards, Ade Salmon, Kate Charlesworth,Warren Pleece, Kristyna Baczynski, HarveyJames, Rian Hughes, Sean Phillips & Pete Doree, Kate Brown, Simon Gane, Jon McNaught, Adam Cadwell, Faz Choudhury, JAKe, Jeremy Day, Dan McDaid, Roger Langridge, Will Morris, Dave Shelton, Carol Swain, Hunt Emerson, Duncan Fegredo, Philippa Rice, Josceline Fenton, Garen Ewing, Tom Humberstone , Dan Berry, Alice Duke, Posy Simmonds, Laura Howell, Andi Watson, Dave Taylor
ISBN 978-1-906653-23-1
252 pages
236 x 178mm softcover with flaps, full colour
£18.99 / $22.99
Facebook page: www.facebook.com/NelsonGraphicNovel
Nelson's official launch event will take place on the 22nd November 2011 at The Cartoon Museum in London, with readers able to buy a special advance copy of the book at Leeds' Thought Bubble Festival on the 19th and 20th November, where the majority of its artists will be signing copies for the public.