With comic and superheroes having long permeated movies, television and popular culture, it's always interesting to see people doing the reverse, and adapting funny book tropes into mediums such as literature and music.
Andrez Bergen's upcoming third novel, Who is Killing the Great Capes of Heropa? is such a novel, offering what the author describes as "a combined comic book/sci-fi/noir/pulp homage." Because sometimes one genre just isn't enough.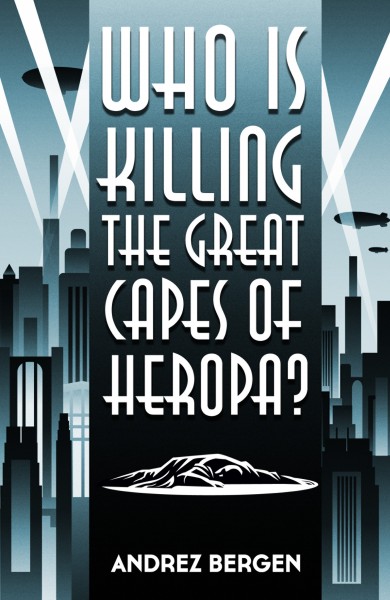 Bergen describes Who is Killing the Great Capes of Heropa?  as "a futuristic-retro superhero romp that mixes and matches 1930s Art Deco architectural lines with the gung-ho Soviet formalist propaganda style, twisted into 1960s pop art sentiment and the huge influence of Jack Kirby. Think golden and silver age American comics channeled unto a dystopian future — via Japanese manga — while heavily skewed by the '60s Marvel comic book baggage of Kirby, Stan Lee, Roy Thomas, Jim Steranko, Steve Ditko and their ilk. And then decant that concoction into the legacy of Raymond Chandler and Dashiell Hammett."
The book will also be partly illustrated by a deliberately diverse selection of artists from around the world: UK (Harvey Finch & Andrew Chiu), Italy (Giovanni Ballati), the USA (Dave Acosta), Japan (Yoko Umehara & Kohana Yamadera), Russia (Saint Yak), Spain (JGMiranda), Canada (Fred Rambaud), Argentina (Maan House) and Australia (Paul Mason). Check out the gallery below.
"I wanted a more professional take on the visual concept and I also liked the idea of disparate visions of the same person," Bergen explains, "it's the way comic books, after all, work in the real world. Bryan Hitch's perception of Captain America in 2009 was far different from John Buscema's in 1969, and this is one reason I asked artists from the  to get involved."
The Tokyo-based Australian writer's previous book, the surreal One Hundred Years of Vicissitude, managed to reach #1 in Amazon's fantasy books section earlier this year.