As much as this world depresses me, it's always reassuring to see kindness rise from tragedy. Red Stylo Media and Odd Truth Inc. have launched WeWinCon.org, an online charity to help the artists and small press publishes affected by the events and aftermath of the Boston Marathon bombings.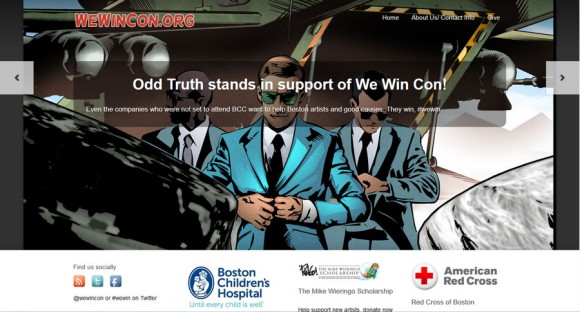 Given the lives lost and impacted by the bombings, the fact that the Boston Comic Con was postponed might seem inconsequential, but many of the artists and small press publishers scheduled to exhibit at the show were already en route or in the city, and had to return home empty handed. And given both how little most comic creators earns, and how much they rely on these conventions, the postponement might have cost them severely.
As well as showcasing the artists and organizations who are giving to the BCC charities, WeWinCon.org is running "gas card drive" to help these artists recoup their travel costs. So take a look, and perhaps lend your support a charity or a creator. And if you need that further incentive, Red Stylo Media is offering contributors $10 off their online store.