110+ Comic Creators Donate Art
Press Release: Comic Creators Alliance announced today that their second annual fund-raising drive to raise funds to fight against human trafficking goes live on January 11, 2011. Lora Innes, a comic creator herself, started the yearly drive to coincide with National Human Trafficking Awareness Day in 2010. Last year's drive raised a staggering ten thousand dollars and had over eighty seven artists working together on a special downloadable image just for the event. This year the drive has 110 of the best and brightest artists collaborating to create the 2011 image. Unlike last year the image will be available in a print form as well as a digital download. The donation drive starts on National Human Trafficking Awareness Day which is Tuesday January 11, 2011 and ends January 24, 2011. The official website for the drive is http://comicalliance.weebly.com/.
One of the most unique points of this year's drive is the number of print artists who joined the strong web comic contingent from the previous year. All of the artists included in the drive are amazing and some of the fan favorites are: Scott Sava (The Dreamland Chronicles), Adam Hughes (Star Wars, Wonder Woman), Sarah Ellerton (Inverloch), Bryan Glass & Victor Santos (Mice Templar), Beau Smith (Wynonna Earp: The Yeti Wars), Billy Tucci (Shi), Mookie (Dominic Deegan), Crystal Yates (Earthsong),Thom Zahler (Love and Capes), and Alison Action (Bear Nuts). See the complete list of participants at http://comicalliance.weebly.com/the-people.html.
100% of donations are being split between Love 146 (www.love146.org) and Grace Haven House (www.gracehavenhouse.org). To learn more about what you can do to end human trafficking visit http://comicalliance.weebly.com/links.html. Lora Innes started the yearly drive after being particularly moved at a seminar on the issue. Innes states "There are currently 27 million enslaved people worldwide- more than double the number of enslaved Africans during the trans-Atlantic slave trade.UNICEF estimates that 1.2 million children every year are sold into slavery, most of it sexual. The US Department of Justice estimates 16,000 victims of human trafficking are brought into the United States every year. With this many people being affected I just couldn't sit there and not do something."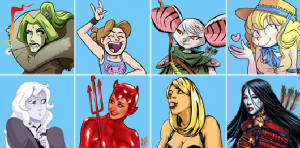 Start donating January 11th 2011!