DC Entertainment's We Can Be Heroes campaign has launched a scheme over on
www.indiegogo.com to raise funds that will go towards helping fight the hunger crisis in the Horn of Africa; an emergency which has already affected over 8 million lives.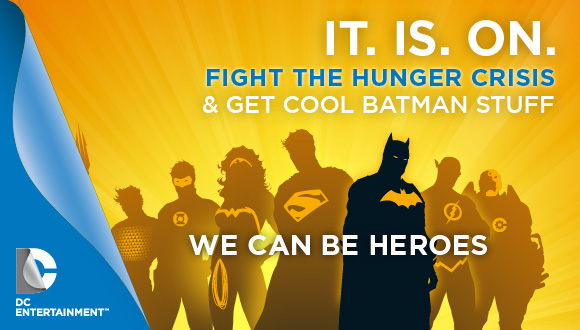 Of course, the folks at DC are well aware that, no matter how they push the whole "fight side-by-side with Batman and the Justice League" angle, collectable incentives are going to help raise cash more effectively than any form of emotional or moral blackmail. So, not unlike a Kickstarter appeal, larger donations will be awarded with all manner of shiny things, from digital comics, signed copies of books and the upcoming Injustice game, annual subscriptions… and for the three charitable souls who cough up $5,000, the opportunity to have Gary Frank draw them into Batman Earth One vol 2.
Unfortunately, at least for me, this campaign is only open to residents of the United States.