Marshal Pictures and Maw Productions announced a joint effort to bring indy comic book heroine Turra to life. The character originated within the pages of Maw Productions Jetta Tales of the Toshigawa graphic novel series and carried her own in her book Turra: Bombs and Betrayal. With an established cult following and a film company who excels in genre movies as an art form, the obvious next step was to bring Turra to the big screen. Budding ingénue, Rachel Alig has been cast in the lead role and a plethora of rewards make this a crowdsourcing drive to watch.
Getting in at the ground level of a kick ass action movie has never been easier! Donate to the campaign at http://www.indiegogo.com/projects/turra-gun-angel-feature-opening-scene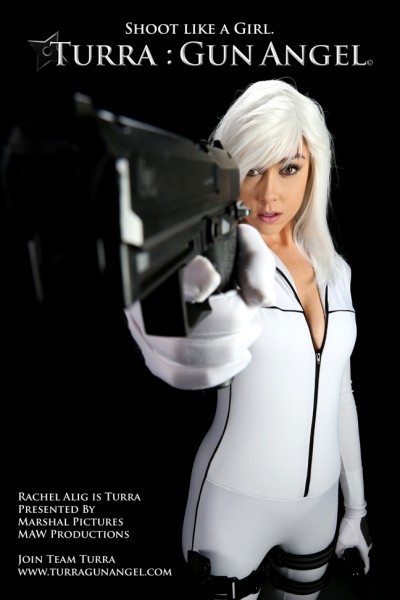 About Turra: Gun Angel:
Turra has been raised as a ninja assassin and is burnt out on the endless training and constant killing. She leaves Japan to become a bounty hunter in America. After the particularly brazen extraction of a target from a night club, Turra is visited by an elder member of the Japanese Mafia who offers her a job she can't refuse. Being Turra, however, she does refuse and she soon lands in the middle of Yakuza Civil War!
Renown artist, Jamal Y Igle (Supergirl, Nightwing) also gave his support, "Martheus [Turra's Creator] is a fantastic talent and taking such a huge leap like this, bringing Turra to life is a bold, worthy endeavor. We have to do what we can to help this project get the funding it needs, and add to the diversity of voices in the film industry."
Want to find out more visit www.turragunangel.com
About Marshal Pictures:
The folks at Marshal Pictures love making movies. No matter how big or small the budget, their goals are always the same: produce movies that entertain people, give donors a great experience for their generous support and provide the best possible ROI for investors.
About MAW productions:
MAW productions is a small indy graphic novel publisher who punches well above their weight.  Headed by Martheus Wade (Oxygen Network's Bad Girls Club, Jetta: Takes of the Toshigawa) MAW productions has mastered a heady blend of Asian cultural lore, strong female role models, and modern high speed action. Their titles include Turra: Gun Angel and Jetta: Tales of the Toshigawa.