Having recently discovered Fred Van Lente's excellent Action Philosophers series, I'm already sold on the idea that, when it comes to complex ideas, comics can make a fine preparatory point for those of us who've come to expect pictures with our words. Ian Flitcroft and Britt Spencer's Journey By Starlight: A Time Traveler's Guide to Life, the Universe, and Everything applies a similar approach to quantum physics, taking readers through the life, mind and theories of Albert Einstein.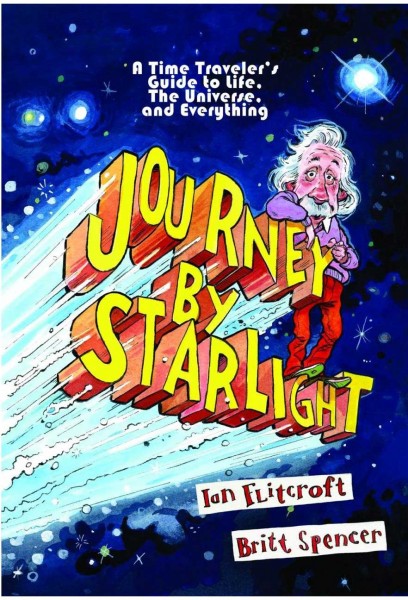 Based on Flitcroft's popular blog of the same name, the graphic novel takes on everything from Einstein's theory of relatively to the nature of black holes, in an accessible guided tour conducted by none other than the man himself.
For a preview of the book, visit www.journeybystarlight.com. While the browser is a tad useless, it looks like a fun read, and a great way to get to grips with some of science's – and, more importantly, science-fiction's – grandest ideas.
Journey By Starlight: A Time Traveler's Guide to Life, the Universe, and Everything will be available from 1st March, and published by One Peace Books.
From the press release:
"Journey By Starlight…has the potential to open up physics and the realm of Einstein to unsuspecting comics fans, which means [Dr. Ian] Flitcroft's journey is a success."
—Publishers Weekly

"Journey By Starlight starts with exactly the point I raised during a meeting at the CERN physics laboratory and communicates an enthusiasm to explore the cosmos with clarity, humor, and surprisingly subtle insights. This book will, I hope, inspire and enthuse a new generation to explore and to think."
—Dr. Andrew Pinsent, Ian Ramsey Centre for Science and Religion, Oxford University

Albert Einstein said his first ideas about relativity came from looking in the mirror as a teenager and wondering what it would be like to travel on a beam of light. This is the story of that journey.

Journey By Starlight follows Albert Einstein and his traveling companion through space and time as they travel on a beam of light from a star 3,200 light-years away to Earth. Along the way, Einstein explains the science behind everything from the origins of the universe to the meaning of life, relativity, black holes, quantum mechanics, climate change, evolution vs. intelligent design, and how the brain works, all delivered in fun, easy-to-understand, bite-sized chunks. Based on the popular blog of the same name, Journey by Starlight has been given the graphic novel treatment, pairing the narrative with fantastic, whimsical artwork.

Dr. Ian Flitcroft is a vision scientist and a consultant eye surgeon at the Children's University Hospital, Dublin. As a teenager, he made a close call between choosing medicine or astrophysics as a career, but he hopes this book will encourage a new generation of astrophysicists, scientists, and, perhaps, even a few eye surgeons.

Ian studied medicine at Oxford University, where he also completed his doctorate (D.Phil) in visual physiology before going on to complete his medical training at St Mary's Hospital, London. As a writer, he has published more than 30 scientific peer-reviewed papers and chapters in multi-author books. His writing has been featured in Do Polar Bears Get Lonely (New Scientist and Profile Books, 2008), and his first novel, The Reluctant Cannibals, was one of the winners of the Dublin Writers Centre Novel Competition 2012.

Journey By Starlight is based on his award-winning popular science blog (www.journeybystarlight.com), which has been viewed more than 700,000 times. Ian lives in Dublin with his wife and three sons.

Britt Spencer is an award-winning illustrator with a BFA and MFA from the Savannah College of Art and Design.

Since his arrival into the commercial art world, Britt's work has been published internationally and been recognized by the distinguished New York Society of Illustrators and the Society of Illustrators West. He is also the illustrator for several children's books, including Penguin/Philomel Books' Fleas! (2008), Make Your Mark, Franklin Roosevelt (2007), and Zarafa: The Giraffe Who Walked to the King (2009).

Britt lives in Savannah, Georgia. You can see more of his work at his website (www.brittspencer.com).

One Peace Books (www.onepeacebooks.com) is based in Long Island City, New York, and is distributed by SCB Distributors (www.scbdistributors.com).