I remember a few years back reading glowing reviews of Hatter M, the comic series that spun-off from Frank Beddor's NYTimes Best Selling Looking Glass Wars series of novels… which in turn was based on Lewis Carroll's Wonderland novels.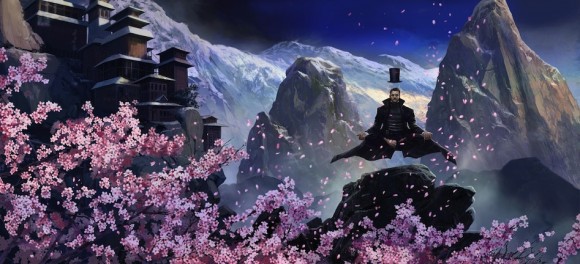 Well, It's probably a good sign of the direction the comic industry is going in when a prominent writer such as Beddor needs to resort to crowd funding to publish the next volume in a series with an existing fanbase, but I guess that's the way it is.
Beddor is hoping that fans will help fund a physical copy of the fourth volume in the Hatter M series, Zen of Wonder, which, unlike many Kickstarter projects, is already complete, and has been wonderfully illustrated by Sami Makkonen and Vincent Proce. Contributors will be helping the gang raise the finances to print and bind hard copies for distribution.
As of writing, the campaign has amounted $15,191 of its $20,000 goal, and has another 29 days to go, so things are looking pretty positive. Head over to www.kickstarter.com and pledge your cash to receive stickers, bookmarks, signed copies and more.
Synopsis:
In Vol. 4, Royal Bodyguard Hatter Madigan's search takes an unexpected detour when he travels 'within' guided by a mischievous and often maddening young girl named Nekko. Nekko's origin is a Zen mystery, but her devotion to Hatter's quest to find the lost Princess is unwavering. After Nekko kidnaps his Hat and leads him on a fearless chase across the rooftops of 1871 San Francisco, Hatter must acknowledge her as a teacher. It is written that when you are ready the teacher will appear, but if the teacher is a 12-year-old girl and
you are a High Ranking Bladesman you may discover that all you can do is laugh.

Hatter and Nekko's adventure around the ring of fire begins when they track a stolen samurai sword with a Wonderland connection to San Francisco's styling 19th century hiphop crime madam Missy Tong and her eager protégé, the outspoken Lil' Dick. A stowaway trip aboard a shanghai sailing ship ends on the Hawaiian Islands where a surfboard becomes Hatter's vehicle to illumination. And then on to Japan! Good grief it's Chikao and the gang, schoolhouse demons, cosplay, manga, noodles and a long lost brother from another world. Duality? No. Milliners.