Legendary athlete, Sir Roger Bannister runs for his life as a comic book hero in a new graphic novel, The Murder Mile.  In 1954, the world-class runner took part in a number of heats prior to his historical victory at Ifley Rd, Oxford in May where he broke the four-minute mile.  His closest rivals in that earlier Arizona race were American Wes Santee and Australia's John Landy, who both feature in the story too.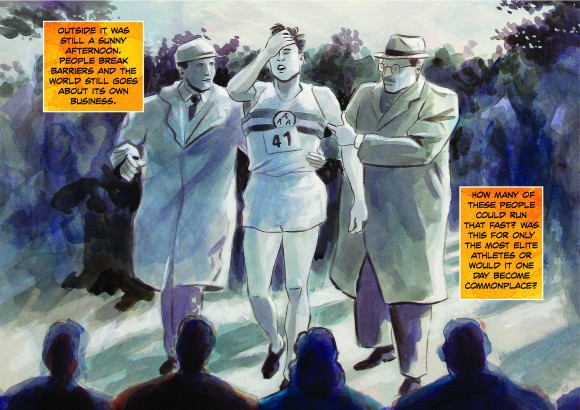 The real-life race forms the backdrop to Paul Collicutt's fictional detective thriller, The Murder Mile, which combines his interests in art and athletics in his first graphic novel for adults.
It's 1954, Arizona – Athlete Todd 'The Phoenix Flyer' Naylor is found dead in mysterious circumstances. P.I. Daniel Stone hopes for an open-and-shut case, but finds that Naylor's death is part of a tangled web of conspiracies, cartels, and – worse still – Communists.  Whilst Bannister ,Landy and Santee edge closer to the four minute barrier, P.I. Stone faces his own race against time to track down Naylor's killer before they too are eliminated.  The price of victory has never been so deadly.
Brighton-based Collicutt is an award-winning children's novelist as well as a keen athlete and qualified coach, who's also on the board of Phoenix Athletics Club.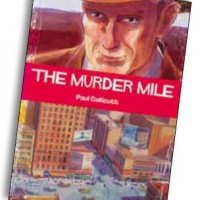 The book has an introduction by Olympic gold medallist, Steve Ovett who says "The four-minute mile is still today a standard that runners and the general public respect as the yardstick to measure success in the sporting filed of track and field athletics".
The Murder Mile will be launched at Dave's Comics bookshop in Brighton on 21st February, with a special signing session from Paul Collicutt.
Published in paperback: February 2013/ ISBN 978-1-906838-62-1/ 128pp colour/  £14.99