Okay, so this has been out for a few days, but below is the latest Iron Man 3 promotional image, offering a clearer idea of Ben Kingsley as the Mandarin. As could be expected, fan feedback has been polarized, but I'll be diplomatic and say that it's clear that the cinematic iteration of Stark's Big Bad will be a balance of the Fu Manchu-inspired (and Asian) comic book creation and the sort of fella one might expect to have headed the Ten Rings terrorist group from the first movie.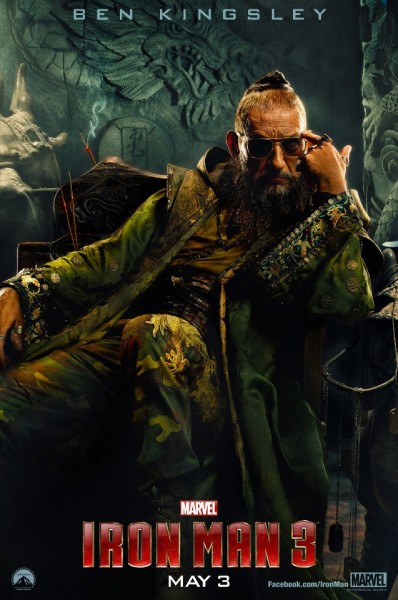 Note the heavy jewellery (ten rings, no less), a mural in the background representing Fin Fang Foom, and Kingsley's mishmash of military and oriental garbs.
Empire has revealed an expanded version of the above image, which reveals several bullet-ridden blue military helmets (evoking Captain America's WWII apparel) and Iron Man's helmet under the Mandarin's left boot. Others have pointed out that Mandarin's sunglasses are the brand previously worn by Stark. So… expect retribution aplenty.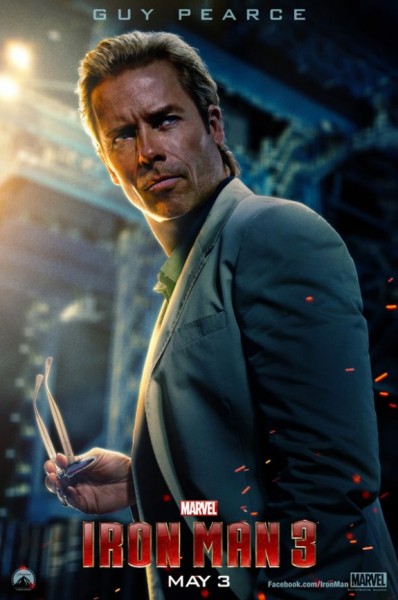 As if that weren't foreboding enough, Stark will also be dealing with Guy Pearce's Aldrich Killian, again recently depicted in a glossy promo.  Those familiar with Warren Ellis' Extremis story arc will have a good idea as to Killian's implication in Iron Man 3. Those who haven't read that arc, however, will probably just see a bleached Pearce in a snazzy suit. Still, it is a nice suit.