The London Book Fair 2015 is impending, and it's an encouraging indicator of the comic industry's health that its organisers have partnered with Sequential, the digital comic graphic novel app for indie creators.
The LBF is now offering comic creators the opportunity to list their books with a bespoke digital platform created by Sequential, which over the course of the show will be made accessible to over 25,000 publishing professionals around the world. The tool will allow visitors to view Sequential's entire catalogue and details such as key rights information and the option to be included in a downloadable digital publication of the listings.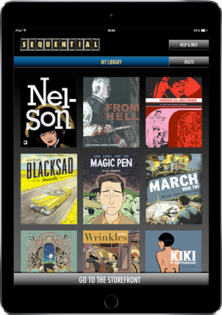 The only snag? It's £100 per person, which is either a meagre fee or a considerable sum depending on the creator. However, the first 20 people to register with the platform can do so for free. And I've been tardy in reporting this… so hurry.
The 2015 fair will have over 30 Graphic Novel publishers attending, as well as a talk on 'What Comics Can Do That Other Forms Can't', hosted by critic Paul Gravett (Graphic Novels: Everything You Need to Know).
I would love to tell you how wonderful and diverse Sequential's selection of digital graphic novels is, but unfortunately it's currently exclusive to iOS gadgets. And it'll be a cold, cold day in hell before I buy one of those.