The folks at Humble Bundle continue to serve comic readers well with their latest offering, The Humble Book Bundle Neil Gaiman Rarities, a digital time capsule of lost and forgotten Gaiman relics, some of which are widely available for the very first time, others for the first time since their original publication decades ago.
There's as diverse selection as anyone familiar with Gaiman's early output would come to expect, from early genre work (prose collection Angels & Visitations) to material of interest to other writers (the material from the American Gods blog), to the sort of stuff only a completist would consider reading. I mean, how many fans of Gaiman's storytelling are going to get anything from his (never republished) Duran Duran biography?
I guess that's the joy of such a package; you wanted rarities, you got them. And you only have to glance at the comments under Gaiman's Facebook posts to recognise how obsessive his fanbase can be.
The two charitable causes this time are the Comic Book Legal Defense Fund and The Moth Education Program.
Below is the complete bundle you'd receive if you're willing to pay$15: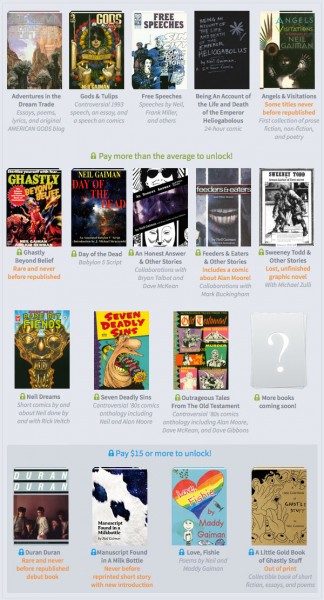 Adventures in the Dream Trade (essays, poems, lyrics & original AMERICAN GODS blog)
Gods & Tulips (controversial 1993 speech, an essay on running signings, & a speech on comics)
Free Speeches (speeches by Neil, Frank Miller, & others)
Being An Account of the Life and Death of the Emperor Heliogabolous (24 hour comic, written & drawn by Neil Gaiman)
Ghastly Beyond Belief (Neil's rare & never republished second book of oddball quotes)
Sweeney Todd & Other Stories (Neil's lost, unfinished, never republished graphic novel with Michael Zulli)
Angels & Visitations (first collection of prose fiction, non-fiction, & poetry)
Day of the Dead (fully annotated Babylon 5 script)
An Honest Answer & Other Stories (Bryan Talbot's collaborations & Dave McKean too)
Feeders & Eaters with Mark Buckingham (Neil's collaborations with Mark Buckingham, including a comic about Alan Moore)
Neil Dreams (short comics of dreams, by and about Neil, done by & with Rick Veitch)
Outrageous Tales From The Old Testament (controversial 80s comics anthology. Neil nearly sent one publisher to prison. Alan Moore, Dave McKean, Dave Gibbons & more)
Seven Deadly Sins (controversial 80s comics anthology. Neil does sloth. Alan Moore does lust.)
Duran Duran (Neil's never republished first book, ridiculously expensive second hand)
Love, Fishie (poems by Neil & Maddy Gaiman, a privately printed gift for his 42nd birthday)
A Little Gold Book of Ghastly Stuff (out of print & collectible book of short fiction, essays, poems, many never reprinted)
Manuscript Found In A Milk Bottle (never before reprinted short story with brand new intro)