Independent comic writer Brady Sullivan, whose work includes the Western webcomic Death Springs, has just released a self-contained 24 page special entitled Revolution Aisle 9, part of his ongoing, Twilight Zone-inspired series Kent.
Illustrated by Andrea Shiavone and lettered by Bernie Lee, the B/W one-off sees the patriotic Adam transported from the American Revolutionary War to a modern day USA retail conglomerate rife with ignorance and obesity. Within this humble Wow-Mart, Adam wages a one-man war against staff and local authorities, in a darkly humorous spin on Rambo: First Blood, turning such household items as a bag of Cheetos, a pregnancy test pen and garden gnomes into deadly weapons.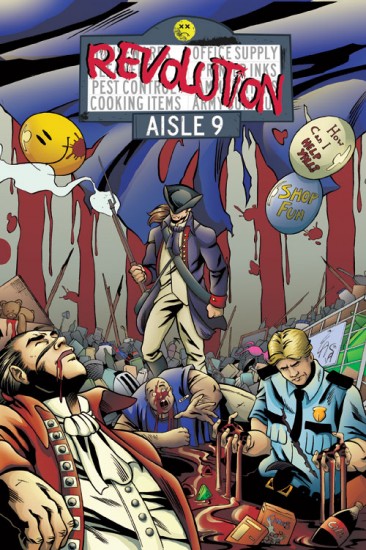 Revolution Aisle 9 can be purchased digitally from the Death Springs site, Graphicly and Drive Thru Comics for just $0.99 or in printed form at Indy Planet, for $3.00.