Indie publisher 215 Ink seems to be executing some long-planned clusterfuck on the comic industry this year, with a spate of new releases both physical and digital coming out in September.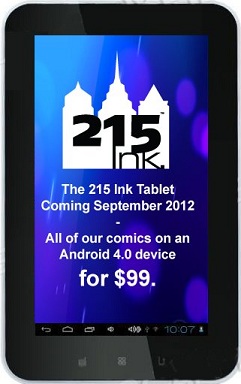 First up is the publishers branded Android tablet – an idea so good I'm surprised the Big Two didn't get in there first – which will be unveiled at the Baltimore Comic Con this September the 8th and 9th. For a mere $99, the fully-functional Android 4.0 tablet comes with the entire 215 Ink back catalogue installed.
Appropriately, 215 Inks' latest titles, which include Golgotha, Engines of Doom, Beware, a Warped GN and Christopher Howard Wolf and David Cabrera's gruesome romance Love Monster, will all be available digitally via its android and iOS apps.
Says 215 Ink President Andrew DelQuadro: "We felt a lot of new readers were still waiting for a reason to try comics on a tablet device, and this offers a chance to sample the next evolution of the medium at a price point that won't break the bank. We hope this translates into new comic readers and can function as a gateway into all comic formats, digital as well as print."
I'm stuck here on a quaint little island called Great Britain, where the very notion of a $99 comic-focussed tablet makes my blood bubble with incensed envy. So if anyone gets their hands on one of these babies, please do let me know whether or not it lives up to its potential. It's a great idea that deserves to do well.
Also at the Baltimore Comic Con, 215 Ink (booths A66 and A67) will be selling a wonderful set of 11 movie-style posters for its existing and upcoming projects, which includes Jeremy Holt and Selena Goulding's beautiful looking young-adult title Cobble Hill. The 8×11 posters are limited to 100 copies each and signed by the attending creators, including Stephen Lindsay, Jeremy Holt, Eric Grissom, Fernando Pinto and  Mauricio (view them in the gallery below).