Northwest Press, a publisher of comics by lesbian, gay, bisexual and transgender creators, will be releasing anthology
Anything That Loves
this July. The collection will explore the seldom-seen world that lies between the convenient labels of "gay" and "straight", and features the work of Erika Moen, Ellen Forney, Randall Kirby, Jason Thompson, Kate Leth, Leia Weathington and MariNaomi amongst others.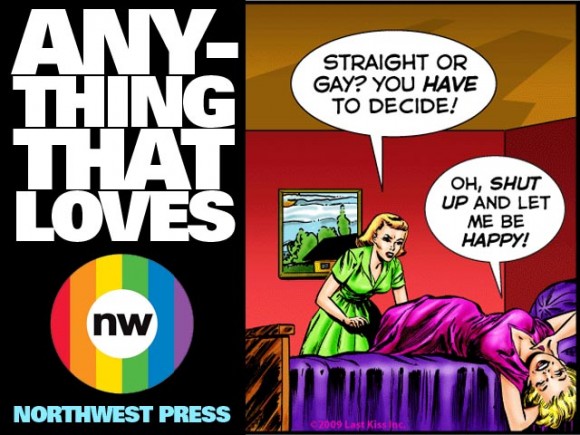 The book aims to focus on the stories that LGBT anthologies often avoid: abandoning one sexual identity and trying on another, finding the love of your life isn't the sex you thought (s)he would be, navigating sexuality as a transgender person (or dating someone transgender), dealing with a gay community that often feels "betrayed" by bisexuals… Anything That Loves asks you to put aside the labels, categories, and boxes and explore human sexuality with no roadmap.
The team at Northwest have launched a Kickstarter campaign asking for support in financing a printed edition of the anthology in time for the San Diego Comic-Con. Incentives include anything from copies of the existing Northwest Press catalog, to a dinner with publisher Charles "Zan" Christensen, and lunch in New York City with Christensen and artist Dylan Edwards (Transposes).
I'll be doing a combined review of some of Northwest's titles later this week, including Edwards'
Transposes
, slapping my unwanted opinions on several of their releases from a heterosexual viewpoint.
For more information about the book, and to support the print edition, head over to the Kickstarter appeal at anythingthatloves.com.