Todd The Ugliest Kind on Earth, a four-issue "collision of comedy, sex, and violence" from Ken Kristensen (Dark Horse's The Amazing Adventures of the Escapist) and M.K. Perker (such Vertigo titles as Cairo, Air, Fables, The Unwritten), will be hitting the racks this January.
The new Image Comics series chronicles the misadventures of a dysfunctional small-town American family; predominantly the titular, paper bag-headed Todd as he finds himself imprisoned for a murder he didn't commit.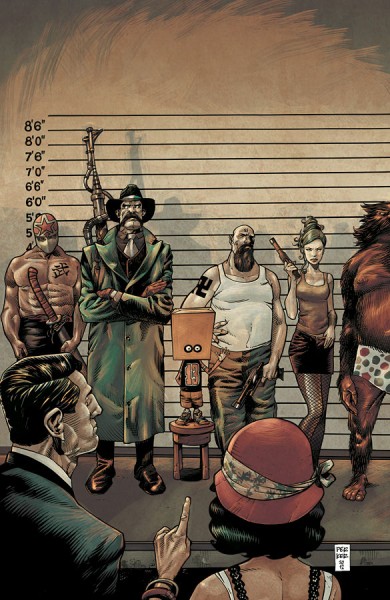 Below is an entertaining interview with Kristensen and Perker that should give you a good idea of the general tone of the series, including the influence that working with idiosyncratic filmmaker  Todd Solondz has had on Kristensen's work.
What was the origin of the Todd The Ugliest Kid on Earth story?
Ken: A few years ago I was working for film auteur Todd Solondz – I knew MK was a big fan of Solondz's satirical masterpieces Welcome to the Dollhouse and Happiness. Films that deal with the ugliness of human behavior in suburban America. One day I invited MK to the set to meet the director. The three of us talked for a long time. We talked about the kind of things you talk about with Todd Solondz –comics, film, and anti-psychotic medication.
Around the same time, my 4-year old nephew, came visit me in New York City. Remarkably, my nephew had a knack for interpreting all the terrible stuff you see on your average stroll through Times Square in the most innocent and beautiful way. I mean, he'd see someone lying in a pool of blood and he'd point at the scene and say, "look, that guy tripped and spilled cranberry juice all over himself." And you'd see a cranberry juice bottle lying in the gutter and understand how that kid's brain took the most beautiful approach to the world based on the clues he had. That's a direct quote, by the way.
Those two experiences were integral to creating the character of Todd, an innocent kid caught up in the ugly realities. Once we had our core character it was a matter of pushing the boundaries of his world to the extreme to make it even more funny and heartbreaking.
M.K.: Right after we came back to the New York City from the set of Palindromes, I did a sketch of Todd. Not the director but our character. We used to have regular brainstorming sessions with Ken at my Harlem apartment before he moved to LA. Still today we do those sessions on the phone and take notes and develop ideas either we turned them into a project or not.  It was very close to Columbia University and Ken was studying film at Columbia at the time. We looked at the sketch and thought this character could become something. Todd was so strong that all the side characters and side stories came with it naturally. Our love for pop culture and its icons found away to come out the surface with Todd. In those days, Ken's nephew Erik — who was so little at the time — was in NY, visiting Ken. We threw a big birthday party for Erik and the theme was "Spider-Man". At the end of the party, as me and my wife were  leaving, Erik came to me and pitched me a comic book series about robots and monsters. Then, like a 60-year old Hollywood mogul, he says, "All right M.K., we'll talk more about this, but you've got the idea, right?" I felt like  Barton Fink in front of 4-year old Erik and said, "Yes sir". On the spot,  Ken and I knew that Erik was our model for Todd.
Do you see yourself in Todd?
Ken: Everyone who has ever felt like an outsider will see themselves in Todd. One of the fascinating things about working with a character who you never see without a bag over his head is that you imagine that when and if that bag comes off…he could be any of us. I think that helps connect the audience with the character. Unconsciously you say to yourself — "When that bag comes off… will the face I see be my own?"
M.K.: I absolutely see myself in Todd. I grew up in a very dangerous neighborhood in Istanbul, surrounded with thugs, thieves and all kinds of criminals and soon-to-be criminals. I was always drawing, reading and into movies. And I was the only one who was like that among my friends. I had a huge collection of Russian classics. One of my friends had one leg shorter than the other — and he was pumping iron all the time because he wanted to be strong and move up in the gang world. And because he had one leg shorter than the other he had problems keeping his balance while he was weight lifting. So one day I gave him my copy of War and Peace to put under his short leg so he could keep his balance.  This was a very naive act on my part, but these tough guys accepted me for who I was. I kept reading books and became a professional comic book artist at the age of 16. And that friend of mine with the short leg is in prison today. Many of my childhood friends either died or went to prison. I later came to realize that the only thing that saved me was the world I was living in — the fantasy world in my head. I was not in the same world with them. Just like Todd.
How did you get started in comics?
 Ken: As a lifelong comic fan and comic book collector (my collection hovers around 15,000) I've wanted to work in comics as long as I can remember. In fact, the very first time I was published was in a comic letters page when I was a kid. The dialog that comic book writers and editors had with readers via letters pages was what first alerted me to the idea that writing was a career option. When I was in film school at Columbia University I was fortunate enough to have a world renowned artist doing storyboards for my student films. His name was….MK Perker. MK had been working in comics in Europe, but he had recently moved to the U.S. and was living in Harlem — near Columbia. We met through his wife — she was managing the coffee shop I used to write in. She saw me every day writing screenplays and one day she approached me and asked if I needed a storyboard artist. I was blown away by MK's work — at that time he was illustrating regularly for the New York Times. But what he really wanted was to break into American comics. After working on a few short films together I told him we should go to some conventions and meet with some publishing companies. MK had submitted a 4-page story to Heavy Metal and got word from Kevin Eastman that he was buying it. So when we went to San Diego Comic-con for the first time we went right to the Heavy Metal booth and met with Kevin, who was really gracious. Throughout that convention we cornered a few editors — IDW, Oni, Image, Dark Horse, and others. MK blindly submitted his portfolio at the DC booth and he was one of two artists selected through that process that year. Our first big champion in the business was the lovely and talented Diana Schutz at Dark Horse, who we also put into a headlock at a convention. We would eventually work with Diana on Michael Chabon's Escapist book.
M.K.: Back in Istanbul. I was like a golden child of comics when I started working in the field. After moving to the States I had to do it all over again, though.
What titles are you currently reading 
Ken: I'm devastated that Vertigo's Scalped has recently come to an end. For me, that's a masterpiece. I really hope Jason Aaron develops another creator-owned book soon. And R.M. Guera — it was announced recently that he's the artist on the Django Unchained adaptation, which is a brilliant choice. Chew is endlessly entertaining. And I've just finished the trade paperback of Saga, which is a ton of fun. I'm also a big fan of Kick Ass. I'll buy anything by the Luna Brothers, Howard Chaykin, and Robert Kirkman. And would someone please hold a gun to Greg Rucka's head and get him to write more Queen and Country?
M.K: I always liked Vertigo books and almost all Vertigo titles are in my reading list.
What type of reader will like your book?   
Ken: When our publisher, Eric Stephenson, announced the book at New York Comic-con he declared, "If you like Chew, you'll like this book." We couldn't be more flattered. Todd is edgy, irreverent, politically incorrect — but there's truth in every page. Growing up I was heavily influenced by the absurdist comedy in Keith Giffen's work, and MK has worked for Mad magazine and many European humor magazines, and I think we're bringing all of those influences to this project. And obviously the humor of Todd Solondz. Trey Parker and Matt Stone are also to blame. The story and characters of TODD will appeal to anyone who appreciates those antecedents.
M.K.: Anybody who likes South Park, or old movies, TV Shows or crime movies would enjoy Todd. Anyone interested in crime culture — those people will recognize that Eddie Bunker is a character in our book. Crime culture tends to creep into everything we do. Incidentally, Ken and I were obsessed with Richard Kuklinski long before his life became a movie called Iceman. So, nerds of comics and movies and underground culture like us are the target readership.
Most treasured comic in your collection is? 
Ken: The most treasured comic in my collection was destroyed the day I lost my virginity. I wasn't old enough to drive, but my girlfriend was 18. Talk about nerdy — I would ask this poor girl to drive me to the comic book store every Wednesday. And it wasn't one of those nice clean stores like Jim Hanley's Universe or something. This was one of those dark dusty basement joints, staffed by crabby bearded guys who haven't seen the light of day since they came out of the womb. As soon as you enter your olfactories fill up with equal parts ink and B.O. — I didn't know a hell of a lot about women. So there I was making this beautiful 18-year old Irish catholic girl drive me to this dungeon! And to add insult to injury I would make her wait while I browsed. Well, on this particular day I walked in and… I don't know what came over me. I remember turning to my girlfriend and saying, "I've never been so sure of anything in my life." And she got this hopeful look on her face, and she said: "Yes?"  And I said: "I'm going to buy Giant-sized X-men #1." At that point I wasn't paying much attention to her, so I can't attest to how she reacted. I was drunk with a kind of ecstasy I hadn't felt before. This was, without a  doubt, a Holy Grail comic. As one does when making bank-account-shattering decisions, it probably took me two hours of haggling with the store owner, but I managed to talk him down by at least five dollars. Crabby bastard. Anyway, I walked out of there absolutely shaking, my ATM card had steam coming off of it. Fifteen minutes later we were at my girlfriend's house and I was fawning all over the book. At a certain point– I can't remember exactly because I was drunk on Dave Cockrum's pencils — I looked up and she was standing there completely naked. I think I remember her saying, "You owe me." One thing's for certain — I was drunk on Cockrum and she took advantage of me. Of course, I had no idea what I was doing and she flung me all over the room till we heard her mother pull in the driveway. That's when I found out that the tensile strength of paper and staples is no match for the beast with two backs. We'd been rolling around on top of Giant-sized X-men #1! Page 12 was completely ripped out! The cover was creased in a hundred places! Her mom came into the living room and I pretended to be reading the comic — which was difficult because it had become a four-color sponge of back sweat. She was one of those moms who would take great interest in you — really talk to you like an adult. She saw the price tag on the mylar bag and she got this look her face like a teenage boy had just spent hundreds of dollars on a comic book. She said, "Kenneth, do you think spending that much money on one comic is wise?" And I wanted to say, "You're right, I should have spent it on condoms." But instead I just looked at her and said, "I've never been so sure of anything in my life."
M.K.: Many years ago I found a rare print of Moebius's Incal in Paris. It had a limited printing of 100 signed copies. That's the most important piece in my library.
For further info visit: www.facebook.com/todd.theugliestkidonearth.