Jeff McComsey, creator of the New York Times best-selling anthology, FUBAR: Empire of the Rising Dead, is teaming with fellow FUBAR contributor Jennie Wood to bring us Flutter, Volume One: Hell Can Wait, a 110-page, full color graphic novel.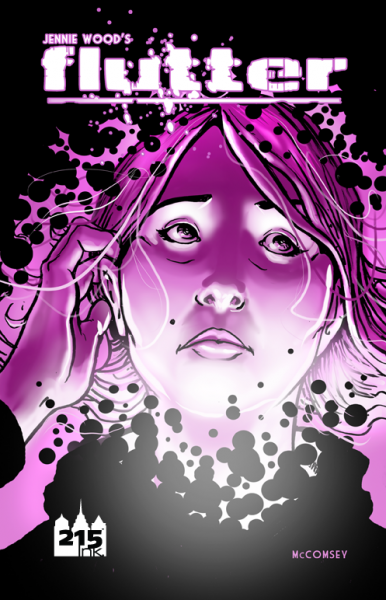 "We couldn't be more pleased with the addition of Flutter to our lineup," said 215 Ink President, Andrew DelQuadro. "McComsey and Wood have proven their ability to create comics people want to read, and the level of care they've shown with regard to both story and art is exactly what we look for at 215."
Flutter is the story of Lily Welsh, a teenage girl who shape-shifts into a boy to get the girl, and the chaos that ensues from pretending to be someone she's not. As she's dealing with her new-found powers, ghosts from her father's past in the FBI come sniffing. This is right in the wheelhouse of creator Wood, who also writes non-fiction features for infoplease.com, an educational website.
In addition to the wildly successful FUBAR, artist McComsey is also the creator of his own graphic novel series – American Terror: Confession of a Human Smart Bomb.
"Working with Jeff on this project has been a dream collaboration," says Wood. "Jeff is able to capture exactly what I have in mind for the world of Flutter, and in many ways, he takes what I have in mind and makes it even better."
Flutter will be available on February 15, 2013, from 215 Ink.