Later this month, SelfMadeHero will be releasing a graphic novel adaptation of Victor Hugo's classic novel The Man Who Laughs.
What perhaps makes this particular novel-to-comic translation stand out of the pile is that the 1928 film adaptation, specifically Conrad Veidt's iconic freakish grin, was a direct influence on the creation of Batman's nemesis The Joker. Several years back, Ed Brubaker referenced the book's title with the acclaimed Batman one-shot of the same name.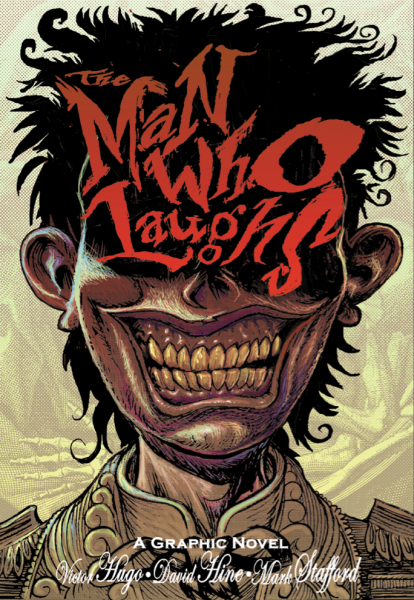 The graphic novel is adapted by David Hine (Batman: Detective Comics, Spider-man Noir, 2000AD's Tao De Moto) with art by Mark Stafford (Brian Talbot's Cherubs! Paradise Lost). The two previously collaborated on a segment of SelfMadeHero's Lovecraft Anthology Vol. I.
Victor Hugo's scathing indictment of the injustice and inequality within Britain's political system tells a story of abduction, mutilation, loss and prejudice. David Hine and Mark Stafford have produced a gripping adaptation that captures the macabre social satire of the original novel. Set in 18th-century England, Gwynplaine is the two-year old heir to a rebel lord, who is abducted upon the orders of a vindictive monarch, who has him mutilated (to produce a permanent, grisly smile), then abandoned. After years of living frugally he is re-introduced to the aristocratic life, and resolves to become the voice of the voiceless, whether he is heard or not.

Hugo wrote The Man Who Laughs while in exile on the Channel Islands. Hugo's influence can be found in the works of other great 19th-century European novelists such as Dickens and Dostoyevsky. The book has been celebrated in film and theatre, but most prominently, Batman creator Bob Kane found inspiration for the Joker's look and Brian Bolland equally
considered the silent film adaptation ideal source material for his own rendition in Batman: The Killing Joke.