2013
Director: Sam Raimi
Script: Sam Raimi, Scott Spiegel
Cast: Bruce Campbell, Denise Bixler, Sarah Berry, Ted Raimi
What can really be said about Evil Dead II that hasn't been said before?
I must have seen the film over fifty times in the last twenty years, and I'm forever finding something new to love. The sheer energy of Raimi's camerawork, as he goes about tackling the sequel to one of cinema's most infamous video nasties with all the slapstick inventiveness of a Tex Avery cartoon. That wonderful stop-motion prologue, which introduces the Necronomicon Ex-Mortis (roughly translated, Book of the Dead) and gives audiences all they need to know in under a minute. And Bruce Campbell's largely physical performance never ceases to amuse and amaze me. In unlikely hero Ash he helped define the modern hero; Ash is an egomaniacal buffoon who's ineffectual at everything but dishing out the pain to Deadites.
And, of course, there's the gore. Buckets of it. Evil Dead II is often seen as more a comedy horror than the unrelenting nightmare that was its predecessor, but the scares are still present between the laughs. The scenes in which Ash flees from the POV entity never cease to chill me – unlike with many other movies of its kind, exactly what this demonic creature looks like is left entirely to viewers imaginations. That just would not happen were the movie made today. Though you might not recognise him under the thick layers of foam and latex, Raimi sibling/stalwart Ted is also genuinely ghastly as the possessed Henrietta.
I'm going to presume that most who buy this Special Edition Blu-ray won't be new to the series, and will do so seeking extras – rest assured, those come in abundance. Most have appeared on previous editions, but there are several new videos (new to the UK at least) that will satiate the Deadite devotee. 100 minute documentary 'Swallowed Souls' is a passionate and extensive look at the film, with input from pretty much every individual involved, as well as some wonderful stop-motion chapter openers.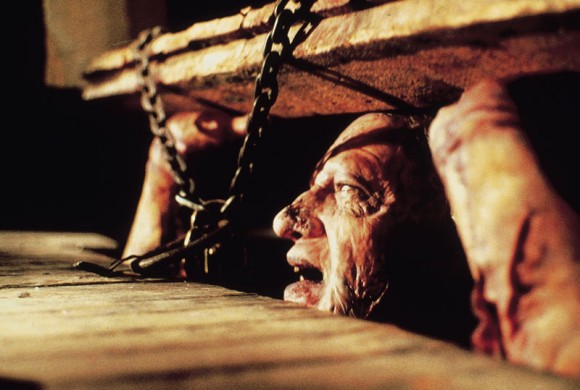 'Road to Wadesboro' sees props guy Tony Elwood revisit the site where the iconic cabin in the woods is barely still standing. How the remains haven't been completely salvaged by fans is beyond me. Two archival featurettes (including fabulous effects doc 'The Gore the Merrier') and half an hour of behind the scenes footage are also included, while the cosy, candid audio commentary with Campbell, Raimi and co-writer Scott Spiegel is almost as entertaining as the movie itself.
There's a modest but noticeable improvement on this new 1080p transfer. Shot on a shoestring budget, the movie was never going to reach the crystal clarity of Avatar, but this is nevertheless the best transfer so far, and probably as good as we're ever likely to get. Due to the extra resolution, the effects now look even more unconvincing than they did on DVD, though Evil Dead II arguably benefits from its evident hand-made effects, stop-motion animation, matt paintings and Raimi's tactile camera trickery. Much of the joy to be had in both this sequel and the inferior (but still great fun) Army of Darkness is that you're never really expected to buy into the manic, cartoonish nonsense that ensues, but simply enjoy the ride.
The Evil Dead II Special Edition Blu-ray will be available from 15th April, from StudioCanal.