Endeavor Bros and Monkube today announced the launch of The Adventures of Retrobot,  an intense tank shooter with epic boss battles featuring animated graphic novel style storytelling. Available now on the App Store for $0.99, The Adventures of Retrobot follows the story of a DIY robot built as a gaming buddy who's out to save his maker from the evil robots who've taken over the world.

Go to  http://bit.ly/retrobot to check it out!
Throughout his adventure, Retrobot acquires new weapons and power-ups to fight off the never ending onslaught of robot overlords. Tactical use of shield and powerful EMP blasts are needed to complete the mission. The Adventures of Retrobot takes the player through numerous worlds, tackles challenging level bosses and tells a full comic book worth of story though animated story sequences. Having lived in a bubble of constant video-game playing and with no prior experience of the world outside, Retrobot and sidekick Toto's journey is filled with slapstick humor that makes gaming logic and real world rules collide. More often than not, with a wink towards gaming's biggest classics.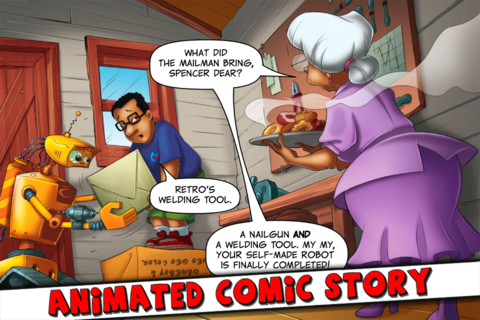 In order to cater to both the occasional and experienced iOS gamers, The Adventures of Retrobot is geared with several gameplay modes. The Story Mode offers a balanced learning curve, varied enough to keep hardened players interested, without preventing occasional gamers from seeing the story through. Seeing the credits roll is just the beginning for experienced gamers. As a Challenge Mode, with one life, no retries and faster enemy spawning and a Boss Challenge await. In those game modes, the majority of the Game Center points are awarded. Completing one of these game modes – which is far from an easy feat – earns players a spot in the separate high score charts.
"The Adventures of Retrobot takes two of the greatest entertainment categories – comics and games – and fuses them together for a hugely addictive and fun experience," said Adam Heat, Co-Founder of Endeavor Bros. "We've spent countless hours bringing together what we believe could be a game changer in the mobile gaming space."
Sven Van de Perre, Creative Director at Monkube remarks, "For us, game development has always been about finding a game genre that is under-used in today's tidal wave of mobile games. And then trying to create a game that raises the bar. Ever since being hooked on Popcap's tank shooter Heavy Weapon, I wanted to have a go at this. With The Adventures of Retrobot, we bring amazing frantic shooter action, while also adding like-able characters, great story telling and – which is up to the consumer to judge – some funny video game related humor."
To go beyond the call of duty, Endeavor Bros and Monkube brought together an all-star support cast, including:
Comic book publisher Ape Entertainment, developers of the massively popular Pocket God Comics featuring work from artist Carlos Valenti and Cut the Rope Comics apps.
Maurits 'Mo' Goossens, part of Monkube's in-house music team, composed the massive classical score that drives both game and story. As 1st violin and former conductor of the Brussels Philharmonic orchestra, he worked on several motion pictures scores, including Golden Globe-winning picture "The Aviator" (Martin Scorcese) and 2012 Oscar winner "The Artist" (Michel Hazanavicius).