2012
Directors: Chris Kentis, Laura Lau
Writer: Laura Lau
Cast: Elizabeth Olsen, Adam Trese, Eric Sheffer Stevens
The 2010 Uruguayan horror La Casa Muda, itself allegedly based on a 1940s rural "incident", grabbed festivalgoers' attention due to its impressive, though fallacious, claim to have been shot in one continuous take. The concept is nothing new; Hitchcock famously utilised it in Rope (which Reece Shearsmith and Steve Pemberton recently paid homage to in Psychoville), but it seemed highly appropriate in this age of voyeuristic horror.
Fortunately, Hollywood rarely lets a good idea go unremade, and one year later Open Water duo Chris Kentis and Laura Lau were assigned to deliver a facsimile of the movie minus those awful, awful subtitles.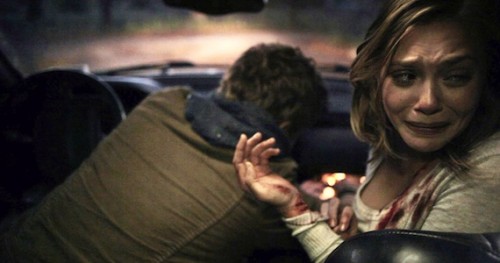 I'm not going to say too much on the ostensibly barebones plot, to avoid entering spoiler territory. A young woman, Sarah (Elizabeth Olsen), while helping her father and uncle restore a dilapidated and mould infested Victorian house in the middle of nowhere, is visited by Sofia, a girl claiming to be her childhood friend. Sarah does not remember Sofia, but they agree to meet later that day. But before you can say "don't lock yourself in a creepy old boarded up house, you silly cow," Sofia's arrival appears to initiate a series of strange events, beginning with the disappearance of Sarah's father, mysterious noises and apparitions, and resulting in the obligatory last minute revelation.
The film is told in real time, and it's a technically impressive feat, if not one that aids the plot in any substantial way. The issue I have with such a gimmick is that, as a detail obsessed pedant, I found myself more concerned with spotting the film's "breaks" than with being immersed in the movie. This isn't aided by the fact that Kentis and Lau resort to some awkward panning to hide the transitions; in one instance the camera lingered longer on a door than any director would intentionally want it to, bringing me out of the moment and instead reminding me of the film's misdirected ambitions.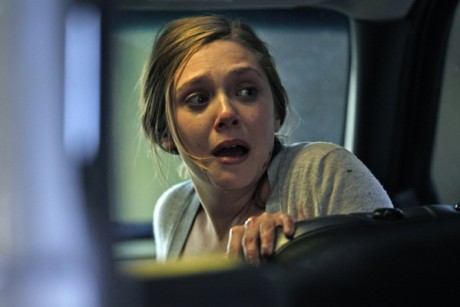 It takes some guts to take the lead in film in which the camera is focused on one character for 81 minutes, but Elizabeth Olsen more than lives up to the challenge. Following her successful turn in Martha Marcy May Marlene, the younger Olsen sibling brings a level of commitment to a role that her sisters were never going to be capable of. That said, as good as Olsen is, there's only so much of her sobbing, sniffling, panting and contorted expressions of terror that one can possibly take. But never fear, the aforementioned voyeuristic element that has long plagued the genre is fully implemented here, and Kentis/Lau obligingly give us enough close-ups of Olsen's cleavage to break up the monotony.
If I've been highly critical of the movie so far, it's more down to my condemnation of the Hollywood machine's need to remake films that don't need remaking than the film itself. To be entirely fair Silent House isn't a better or worse film than La Casa Muda, it simply lacks the novelty and "based on a true story" authenticity that the original brought with it when it appeared out of nowhere in 2010. Viewed objectively and on its own merits, this is a perfectly serviceable horror movie that is lean and stylish; even if the finale's big twist is signposted a little heavily from the offset. But, all said and done, just how much entertainment you'll get from Silent House really depends on how appetising you find the idea of 81 minutes of extreme close-ups of Elizabeth Olsen in a state of hysteria. In a little white vest, naturally.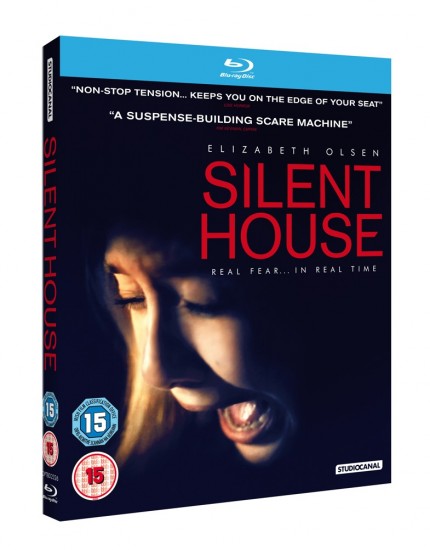 Silent House is released on Blu-ray and DVD from 17 September, 2012, courtesy of StudioCanal.