Within 48 Hours of Launch, iKids Comics Hits #11 on the list of Top Downloaded iPad Book Apps
Press Release: Blue Dream Studios creator Scott Christian Sava announced today the launch of the first all-ages comic app — iKids Comics.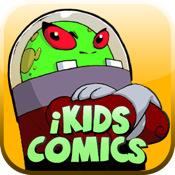 The iKids Comics iPad app features the award-winning and critically acclaimed works of Blue Dream Studios including The Dreamland Chronicles, Ed's Terrestrials, The Luckiest Boy, Pet Robots, Hyperactive, My Grandparents are Secret Agents, Cameron and his Dinosaurs, Gary the Pirate and Magic Carpet. The new iPad app is free and includes the complete Ed's Terrestrials comic, which was named one of the top comics of 2010 according to Graphic Novel Reporter. In addition, the app allows readers to download 11 other exciting titles, and read the first 25 pages for free. Each story can be downloaded in its entirety for only $1.99 per book and $3.99 for each of 300-page Dreamland Chronicles books.
"We're extremely excited to be the first to bring an app created entirely for kids' comics to the iPad," said Scott Christian Sava, creator of the award-winning titles and founder of Blue Dream Studios. "Parents know how much their kids love to play games on the iPad. But there just wasn't anything for their kids to read. Now, there are 12 new books that will capture the imagination and encourage literacy."
The iPad, introduced in April 2010 by Apple, is on track to deliver $15 to $20 billion in revenue in its first full year of sales, according to A.M. Sacconaghi, an analyst at Sanford C. Bernstein, a leading global investment firm. At this rate, if the iPad were a stand-alone company, it would rank within the top third of the Fortune 500. According to Sava, "With the explosion of portable games and entertainment on handheld devices, it seems children will never be "bored" again. But literacy is still an important part of our children's needs. As parents, we must find ways to keep our children interested in reading. iKids Comics for the iPad promotes literacy while entertaining both visually and intellectually."
Found in 2000 by Scott Christian Sava, Blue Dream Studios has brought to life some of the most beloved characters of our time including Casper, Spiderman, Alien vs. Predator, X-Files and Star Trek.  Formerly an animation studio, Blue Dream Studios now creates award winning characters and stories for print, television, and film. Sava's ongoing graphic novel series, The Dreamland Chronicles, has not only won Best Graphic Novel Series awards but has also gained 20,000,000 readers worldwide through the website that gives readers a new page each day. His work can be found in local bookstores as well as on Amazon and www.bluedreamstudios.com.
For more information about any of the books, please download the iPad App and check them out! http://itunes.apple.com/app/ikids-comics/id413889668?mt=8
There is more information about them and the author on the Blue Dream Studios web site at www.bluedreamstudios.com. For more information about The Dreamland Chronicles, please visit www.thedreamlandchronicles.com.