There's an alien invasion vibe to the latest trio of top guests announced for Birmingham Comic Con, with Jaime Murray and Tony Curran, stars of upcoming Syfy series Defiance, and Falling Skies star Connor Jessup all meeting fans at the NEC on 16-17 March.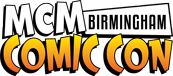 Murray and Curran play Stahma and Datak Tarr in the much-anticipated Defiance, which is set on post alien invasion Earth where humans and aliens are attempting to make a new life together on a planet ravaged by war.
Meanwhile, Jessup is best known for his role as Ben Mason in another alien invasion show, Falling Skies. Created by Saving Private Ryan writer Robert Rodat and produced by Spielberg himself, Falling Skies is set in the chaotic aftermath of an extraterrestrial attack that has left the world devastated.
Jaime Murray is also well known to sci-fi fans as Warehouse 13's genius inventor and former agent Helena 'H.G.' Wells. Jaime also appeared as the main antagonist in season two of Dexter, playing sociopathic artist Lila West. Other credits include Gaia in TV mini-series Spartacus: Gods Of The Arena – the prequel to Spartacus: Blood And Sand – and Stacie Monroe in Hustle.
Tony Curran's roles include Vincent Van Gogh in Doctor Who and Marcus Corvinus in Underworld: Evolution. He has also appeared in Guillermo del Toro's Blade II, Spielberg's The Adventures of Tintin and BBC series This Life, and was the voice of Captain MacMillan in best-selling videogame Call of Duty: Modern Warfare 3.
Tickets for MCM Birmingham Comic Con on 16-17 March are available at www.mcmcomiccon.com/birmingham