Greenwomb Productions announces today that the Eco-Fantasy graphic novel Ambrosia from author Daryelle Mak will be available to the public starting April 15th, 2013.  As part of the national distribution through Dog Ear Publishing, the book will be available on Amazon, as well as additional brick and mortar outlets such as Barnes and Noble, and online sites such as Barnesandnoble.com and Booksamillion.com.  On Demand orders are available beginning April 15th.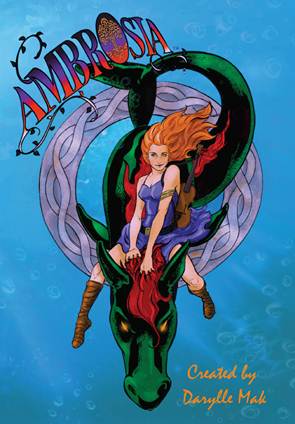 Ambrosia is the first graphic novel in the Eco-Fantasy adventure series introducing Amber, a fun loving sixteen–year-old hero who has lived her whole life on a hidden, lost-in-time isle in the Northern Sea. Amber has just graduated from her family's Academia of Music, Healing, and Higher Learning, but rebels when she learns of her father's plans for her future. Defiant, Amber sets out on a journey to find if her mother is still alive and living in the modern world of Colorfulnation. On her journey, Amber faces her deepest fears, extraordinary challenges, and astonishing surprises. She also discovers powers and gifts she didn't know she possessed.
This graphic novel is soon to be a major motion picture in 2014 from Greenwomb Productions, whose mission is to create works of eco-fiction and stories of the earth in film, TV and documentary forms that have targeted appeal to global audiences. Greenwomb's goal is for their projects to have global reach, artistic vision, commercial value and content that will excite, inspire, and entertain audiences in both domestic and international markets.
The Company was formed by a team of professionals with a diverse range of backgrounds in management, entertainment, production, writing, and scientific-environmental specialization. The business philosophy of its Managers is to produce and distribute commercial and environmentally Earth-conscious film and television projects with strong creative elements, leveraging the talent of outstanding writers, directors and actors.  In today's market, quality sells, combined with marketable material and gifted talent.
"We are excited and proud to introduce a new Eco Fantasy superhero for tweens, teens and families which targets the female niche market and is created by local writer and artist," said Greenwomb Production's R.G. Green.
Author Darylle Mak currently lives in Santa Fe, New Mexico.  She sees herself as a citizen of the world having the good fortune to be raised in many countries and travel extensively. Her writing is a continuing journey that has taken her to create works in poetry, theatre, film, and now a graphic novel.
For more information on the Ambrosia graphic novel and film project, please visit:
www.ambroisagraphicnovel.com
www.ambroisathemovie.com