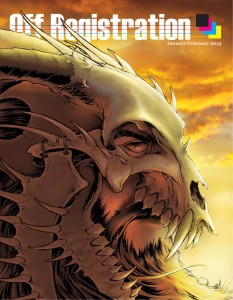 Bronco Ink Publishing, LLC is pleased to announce the launch of their new bi-monthly digital anthology OFF-REGISTRATION.   Featuring select comics and interviews with creators worldwide, OFF-REGISTRATION is dedicated to the work of writers, artists, colorists, and letterers from all corners of comics culture.
Publisher, April Brown, had this to say about the new anthology: "In breaking away from traditional paper comics, OFF-REGISTRATION has limitless access to celebrate great comics and great comics creators with amazing work from around the world. We're starting with Fred Van Lente, writer of the fantastic Comic Book History of Comics and numerous superhero books for Marvel, Valiant, and many others."
OFF-REGISTRATION's inaugural issue features an interview with and a comic by Fred Van Lente, with reviews, covers by Daniel Govar, and additional stories from Scott O. Brown & Devon Jopling, Lee Nordling & JJ Dzialowski, and Ferran Xalabarder. Many more comics are coming in the months ahead!
The first issue can be downloaded TODAY in several formats or read online at  www.off-registration.com and free subscriptions are available by emailing subscribe@off-registration.com
FACEBOOK: https://www.facebook.com/OffRegistration
TWITTER: https://twitter.com/OffRegistration
About Bronco Ink Publishing, LLC:
Publisher April Brown is new to the comics industry, having worked with several comics publishers as a letterer and production artist. This is her first foray into publishing.
Editor Scott O. Brown is an award-winning Man of Comics™ who has worked in the industry for over a decade as a writer, letterer, editor, and publisher. His work appears in books by Marvel, DC, Kodansha, Harcourt, and many others.