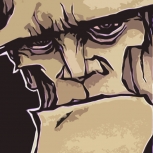 Red Stylo is currently looking for writers and artists to contribute to Unfashioned Creatures: A Frankenstein Anthology.
In a similar vein to the publisher's previous anthologies, The Poe Twisted Anthology and Shakespeare Shaken, Unfashioned Creatures will be a collection of original comic book tales inspired by Mary Shelley's gothic horror classic.
No "adaptations."

No prose.

We want short comics that use the themes, ideas, characters and concepts in Frankenstein within new and original eight-page comic shorts and/or single-page vignettes. Additional points to ponder:

ANY GENRE is welcome. Any time period, any setting. Be funny, be sad, be gothic, be whatever. We expect the unexpected from you.

Artists and writers should be familiar with more than just a movie. We want unique approaches to themes and characters within Mary Shelley's Frankenstein, not a Frankenstein movie.

Bonus points to folks who take the time to read our previous anthologies to best understand what we're trying to do in this new collection.
So, if that sounds like your thing, and you have a webcomic, site or online portfolio, shuffle over to the Red Stylo for further submission guidelines. The deadline for queries is February 15th.