"It is a truth universally acknowledged that a single man in possession of a good fortune, must be in want of a wife".
Two hundred years ago, Jane Austen introduced us to Elizabeth Bennet, her four sisters and their suitors with the publication of PRIDE AND PREJUDICE (1813), which she referred to a her "darling Child" – and generations of readers have taken it to their hearts.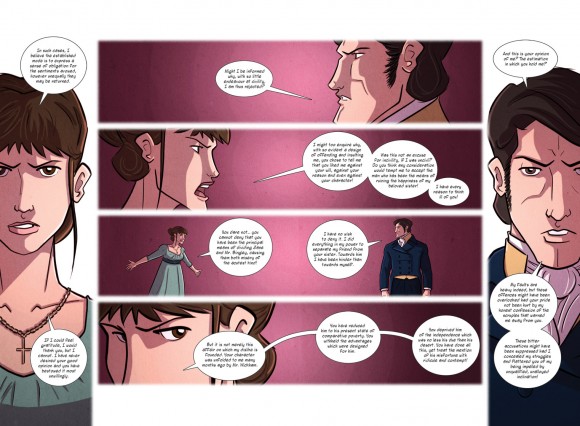 The irresistible attraction she portrays, between the sparkily independent Elizabeth and the solemnly austere Mr. Darcy, counts among the greatest,most romantic – and funniest – love stories ever told.
Robert Deas and Ian Edginton's adaptation strives to reproduce the "bright and sparkling" charm of the original, illustrated by Deas in a bright, clear-line comic style and adapted by Edginton to capture the cadence and humour of Austen's writing. Austen compared her writing to a miniaturist's art: a "little bit of Ivory on which I work with so fine a Brush".
The graphic novel adaptation is the perfect starting point for young adult readers and after the huge success of recent film and tv adaptations, this is a refreshingly different way for Austen fans to revisit this much-loved classic.
Pride and Prejudice the graphic novel is published by SelfMadeHero (144pp, colour, RRP £14.99) and available from all good bookshops or direct from www.selfmadehero.com/shop.php.