Press Release: MASKS is a dark story with stunning visuals written and illustrated by Aaron Rintoul and published by Septagon Studios. After the successful Free digital release of MASKS #1, Septagon Studios has gone on to release the full MASKS mini series digitally along with the hardcover graphic novel and 5 Bonuses. For full details please visit www.MasksComic.com.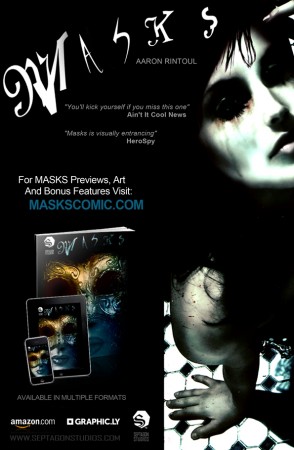 MASKS is a photographic poem and exploration into the nature of identity. The story takes place inside the psyche of a girl named Sara. Sara sees pieces of the past lives of others and memories of her own as she follows a phantom killer and his victims through a distorted reality.
MASKS #1 was one of the most downloaded and popular indie comics on Wowio. Since then Masks has built a cult following and has garnered some spectacular reviews such as:
"MASKS is very much a feast for the eyes…you'll kick yourself if you miss this one." –Ain't It Cool News
"This is by far one of the most breathtaking graphic novels I have seen." –Gothic Blend
"Masks is visually entrancing and the story reads like a poem." –Herospy.com
"For fans of Dave McKean or film-maker Guillermo Del Toro, writer/artist Aaron Rintoul's debut effort is a class act." –Comic Book Jesus
"The images are at once beautiful, evocative and haunting." –Comics And…Other Imaginary Tales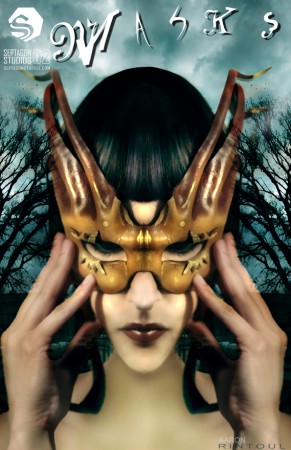 MASKS creator Aaron Rintoul says, "my intention with Masks was to make something highly original that I had never seen done in comics before and a book the reader would want to open up more than just once. Hope you enjoy it!"
MASKS also has one of the most unique and creative comic trailers the industry has to offer. It is a combination of live action, animation and comic art woven together seamlessly with an original soundtrack to capture the tone and mood of MASKS. The trailer was produced by Philip Carrer with Bleeding Apple film collective. "It's been a pleasure collaborating with talented artists like Aaron and Philip and we are excited to share the full series of Masks with comic fans," said Nick Defina, president of Septagon Studios.
MASKS is available digitally for your computer, iPhone, iPod Touch, iPad and Android devices. GET THE FULL FIRST DIGITAL ISSUE OF MASKS FRE – Visit www.MasksComic.com for details.
MASKS digital issues #2 and #3 are only $0.99 available at Graphic.ly, Wowio and MyDigitalComics. They also come with 5 Bonuses. The MASKS Hardcover Graphic Novel can be purchased at www.Amazon.com and www.BarnesAndNoble.com through the ISBN 978-0986885303
Visit www.MasksComic.com for previews, art and info.
Septagon Studios Inc.
Septagon Studios is a company focused on imaginative, innovative properties and concepts. We stand for creator freedom and artistic integrity. We embrace diversity with a major focus on art and inspirational storytelling. To learn more about Septagon Studios Publishing visit www.SeptagonStudios.com